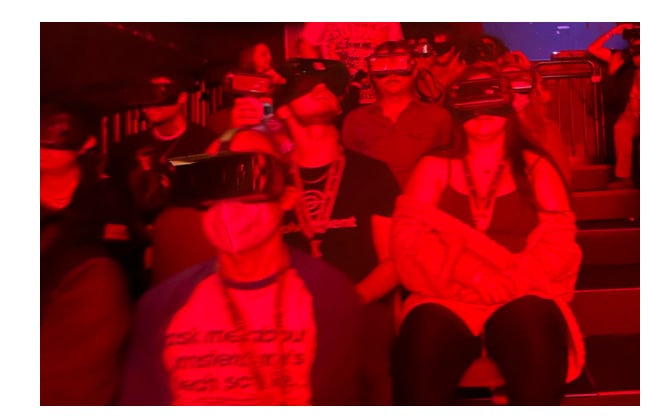 Augmented Reality Technology with music at SXSW
Augmented Reality Technology with music at SXSW
The Ristband music metaverse uses all the technologies at its disposal to revolutionize the live music industry.
Last week, participants from all over the world gathered in Austin, Texas, for the SXSW 2022 exhibition. At the event, which took place for ten days, there were incredible sessions led by teachers and leaders of the XR industry, where all kinds of topics were touched upon – from the metaverse, NFTs and music to avatars, fashion, VR/AR and various other revolutionary technologies.
During the SXSW XR Pitch, the musical metaverse company Ristband demonstrated to listeners its rethought approach to live music by performing with the Miro Shot Collective band at The Hideout Theater. During the performance of the Miro Shot Collective group, the audience wore VR headsets.
Those who were lucky enough to get to the show were in a small theater, where everyone was given an old-model display, worn on the head, powered by Samsung mobile devices. The audience got an exciting experience unlike anything else. The AR (Augmented Reality) filter displayed a series of fascinating visual images synchronized with the band's live performance, changing their view of the real world in real time.
In a conversation with members of Miro Shot Collective about how this unique performance appeared, singer Roman Rappak, who is also the CEO of Ristband, said: "All my favorite bands, like Joy Division and Kraftwerk, took strange technologies that were broken and difficult to use, they accepted them and created music with them, working with limitations. That's what we're trying to do with XR."
When asked what a 45-minute show might look like in an XR environment, Rappak replied: "I wonder if the world is ready for a 45-minute live VR show." He refers to the logistics of scaling such a show for thousands of people. "The technology just doesn't exist yet," he said.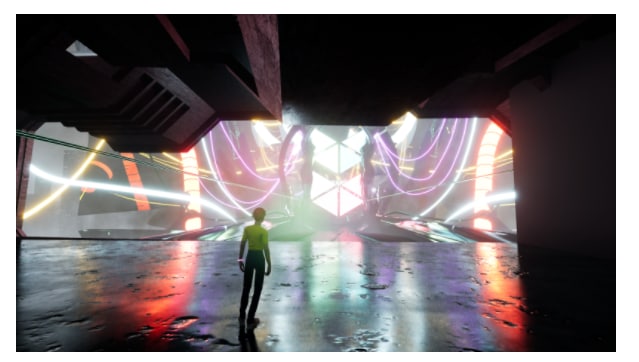 For Ristband, who received an Epic MegaGrant grant from Epic Games, which helped them launch their vision of music in the metaverse, SXSW 2022 was the best way out for the debut of their new multi-user music platform, demonstrating how any band or artist can organize a show in mixed reality, as the Miro Shot Collective group did.
We have already seen performances in VR by artists such as Chance the Rapper, Billie Eilish and most recently The Foo Fighters. But these are famous performers with a huge number of fans and with the money needed to create such live impressions.
In an official press release, Ristband co-founder and former VRScout project participant Ann McKinnon noted: "Collaborating with artists and representatives of the music industry, we realized that there is no platform for hundreds of thousands of independent artists that allows them to perform convincingly in virtual worlds. They don't have the tools they need to create an audience, track metrics, and monetize their work directly in the virtual world. At this early stage and the first look at Ristband, we are using our platform to give an opportunity to see promising audiovisual NFT artists alongside some of the biggest names leading the Metavers creative movement."
McKinnon, who met Rappack when she worked as a tech journalist/blogger, talked about the importance of technology, explaining how artists have always pushed technology in new directions for new applications, creating things that you may not have initially thought possible. This is one of the many principles of Ristband, according to McKinnon, who also believes that the metaverse is the greatest opportunity since the Internet to make the world a better place. That's why Ristband is focused on strengthening all that is good about live music and experience, rather than trying to completely replace it.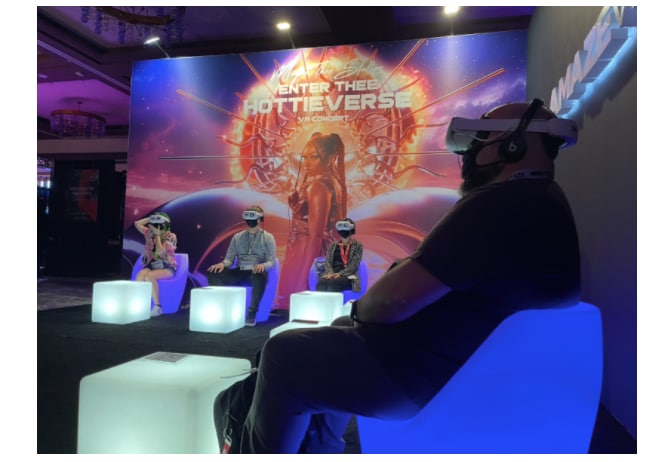 The company also believes that the metaverse is an opportunity to support artists, institutions, creative personalities and people who use it, and it should be created for diversity and inclusivity.
"A new generation of gamers and fans who perceive content in a new way, living virtually, investing in their own type of concert and experience. As part of this, we are creating an ecosystem that will rethink hybrid events and the experience of live musicians," said Rappak.
Along with the performance of the Ristband collective with Miro Shot, at the first of its kind VR event Megan Thee Stallion "Enter Thee Hottiverse", SXSW viewers stood in queues to become part of a very close, obscene and incredibly realistic virtual show using the "Hottie Mounted Display" headsets. Those present used hand tracking to shoot energy blasts from their bare hands. While waiting for the show to start, users knocked down objects in the air, making their way to Megan's giant digital facial structure, and then penetrated her throat. As I said, "very close."
Not to be confused with Ristband, Mictic was also at SXSW, showcasing a pair of wearable devices capable of creating an audio AR experience that lets you interact with your favorite movement.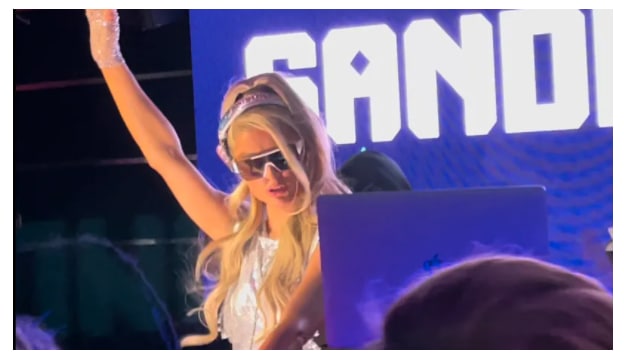 The bracelets are paired with your mobile device through a special application and allow you to play guitar, cello, drums and other instruments with simple hand movements. You can perform music of various genres, such as rock, latin, hip hop and EDM. The CEO of the company, Mershad Javan, showed me the work of Mictic bracelets, and I must say that it was impressive. Imagine that it's like playing an "air instrument", only you really make sounds! You can find some tutorial videos here. During the demonstration, Javan was able to play the song "Wild Thing" and even performed a killer guitar solo.
Finally, Paris Hilton appeared at SXSW with an unexpected DJ set to promote her new partnership with the rapidly developing metaverse The Sandbox. Hilton will soon launch its own metaversion of Paris Hilton on this platform, as will Snoop Dogg, Steve Aka and Deadmau5.
In an interview with Adweek , Hilton said: "I really believe in metaverse and how Web3 technologies empower creators, gamers and artists. I can't wait for people to see what amazing experiences The Sandbox and I will bring to metaverse."