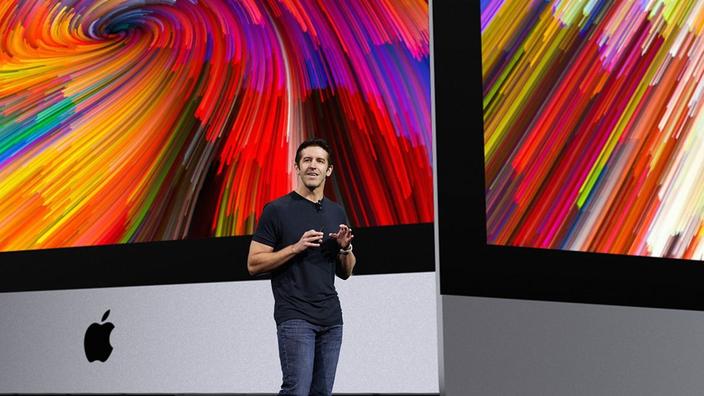 Apple positions itself in virtual and augmented reality
Mac users will be able to connect a virtual connect headset, for an additional investment, while the iPhone and iPad welcome new augmented reality applications.
New forms of understanding reality. At WWDC, the conference it holds for its app developers, Apple presented new tools to deploy virtual reality and increase on its products.
Owners of some Macs will soon be able to use the HTC Vive headset thanks to the macOS High Sierra update, which will arrive in September. This new technology was not available on Apple's computers for a simple reason: they were not powerful enough. However, it will be necessary to equip the new iMac Pro, animated by a Radeon Vega graphics card from AMD, and sold 4999 dollars. For Mac owners with lower power and not having that amount to spend, John Ternus came up with a modular solution. A case using the Thunderbolt 3 or USB-C port will connect an external AMD Radeon RX 580 to a Mac for $ 599.
Apple enters into agreements with third-party companies
The company has not launched headsets or proprietary software. However, an agreement has been signed with Valve which has already made available a Mac version of SteamVR in beta. Apple also spoke with the creators of virtual reality development tools Unity and Unreal 3D, which should be available with the release of the new update in September.
This range of products, already very expensive without adding the HTC Vive, is not aimed at the general public but professionals. The Mac ecosystem has a lot of customers in creative circles. With the advent of virtual reality, pushed by Facebook and Google, Apple has had to choose between cooperating with third-party companies or letting some professionals use Windows to create in VR.
Demo of the game Star Wars in virtual reality running on Mac
A new competitor for the Tango project
Apple is also getting stronger in augmented reality. iOS developers will be able to use ARKit, a toolbox that allows to implant 3D objects on the real using the camera of a mobile device. The demonstrations at the conference resemble Google's Tango project. This system will allow many application creators to integrate augmented reality into their software.
To add such functions, a company normally has to create its own program using the cameras of the devices. Apple's tablets and smartphones will therefore have access to augmented reality on a greater number of applications without having to change devices, as The Verge points out. This first integration will allow it to enter the mores of the users and create an ecosystem of applications. Improvements are expected in this matter on the next iPhone 8. We also lend Apple the intention to market, one day, augmented reality glasses.

SERVICE : Discover our Amazon promo codes