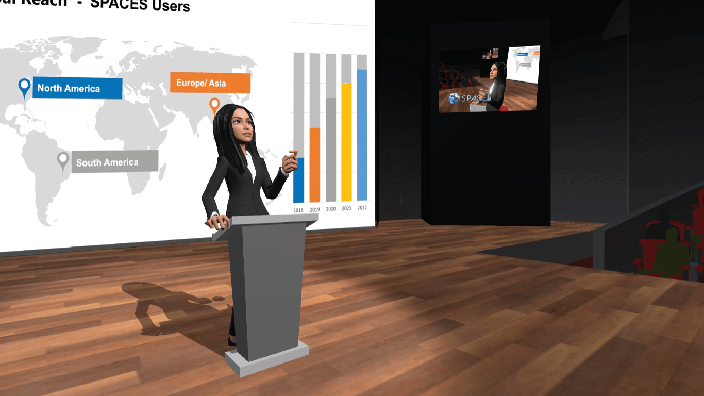 Apple buys Spaces, a start-up specializing in virtual reality
The American giant is increasingly interested in this technology, which could be used to develop its own virtual reality headset.
Entangled in a heated conflict with Epic Games studios, Apple is not slowing down its acquisition race. This time, its focus has shifted to Spaces, a start-up founded in 2016 by former DreamWorks Animation employees, offering several virtual reality experiences. The company, which raised a total of nearly ten million dollars, had developed a simulation aimed at immersing its users in the universe of the Terminator film. Recently, it also offered its customers a feature allowing them to organize Zoom videoconferences in the form of animated virtual avatars.
https://www.youtube.com/watch?v=q7eMJLa2BsU
"A new direction"
According to Protocol's information, however, these services have not been sufficient to combat the economic consequences of Covid-19. Calling the pandemic a "tsunami" for his business, the CEO of Spaces had been forced to close some centers and lay off several employees. Apple, on the other hand, posted mirobolant results, thus exceeding a few days ago the symbolic milestone of 2, 000 billion dollars in market capitalization. An iron health, which allows the smartphone giant to be interested in start-ups in difficulty.
Now, Spaces says on its site "heading in a new direction," and last week ended all its ongoing activities. "Thank you to our users and partners for participating in our great virtual reality video conferencing product. Thanks also to the many people who have enjoyed our virtual reality entertainment attractions, whether in theme parks, theaters or elsewhere," the team writes on the home page.
Virtual reality headset project
If Apple confirmed the acquisition to Protocol, the company did not, as often, give an explanation on the reasons that motivated it to realize this acquisition. This is in any case not the first time that Apple has offered itself a start-up specialized in this field. A few months ago, she had already got her hands on NextVR, a company that broadcast live events in virtual reality. Camerai, Akonia Holographics and Vrvana are also part of this list. This appetite for this technology could be explained both by a desire to place pawns in the booming sector of videoconferencing, but also by the project of helmet and virtual reality glasses of the brand. Indeed, according to information from Bloomberg, Apple could launch this type of products as early as 2021.
In recent months, Apple's numerous takeovers have shown its interest in a wide variety of areas. Voice recognition, with the acquisition of the start-up Voysis, weather forecasts (Dark Sky), or financial services (Mobeewave).