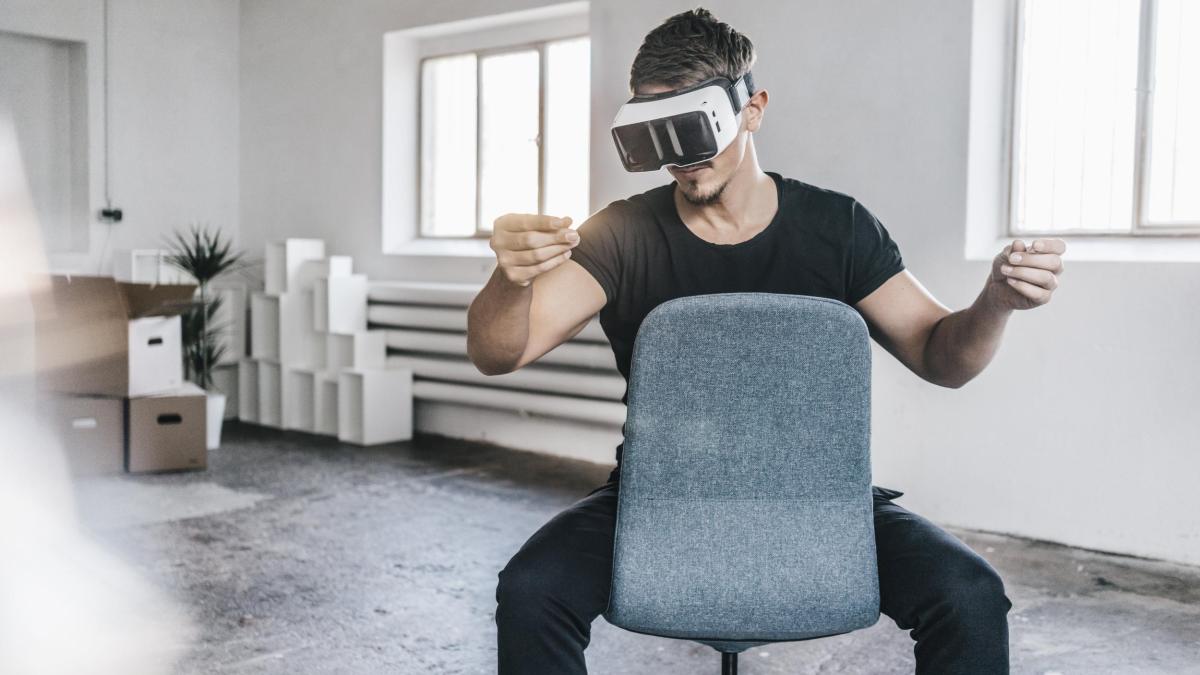 Apartment viewing on the holodeck
Are you looking for a house in Mexico, large, luxurious, with pool and fascinating views? Maybe the Casa Fox in the tourist town of Los Cabos would be something for you. Four bedrooms, six bathrooms, an outdoor kitchen and a hot tub are included, and even membership in an exclusive yacht club is already included in the purchase price of almost four million dollars.
Now, however, even for a wealthy clientele, it is a bit time-consuming to fly to the Mexican Pacific coast for the inspection of a house. But that's not necessary: The brokerage company Engel & amp; Völkers offers a 3-D tour of the dream house on its website.
The interested party can not only look at photos on the computer, but also navigate through the villa with a mouse click. He then discovers, for example, the many fitness equipment of the current residents, can enjoy the night view of the lights of Los Cabos and ask himself how he wants to furnish the living room.
3D viewing via smartphone
Virtual tours are currently fundamentally changing real estate marketing. "Virtual Reality offers the opportunity to experience real estate without having to visit it on site," says Thomas Schroeter, Managing Director of Immobilien Scout GmbH. Their portal Immobilienscout24 is also experimenting with 3-D visits. It allows brokers and other apartment marketers to use the Matterport camera system.
Read also
The system of the American company of the same name can scan interiors three-dimensionally and then map them online in the form of virtual tours. Thanks to the camera, potential apartment buyers or tenants can take virtual tours on any PC or smartphone.
According to Schroeter, this is a quantum leap. "The way that prospective buyers are looking for apartments today is still traditional," he says. "The search lists on the Internet work a little like newspaper ads. On the other hand, we want to focus on how consumers actually want to look for apartments."The customers should get a realistic impression of their future home in order to be able to decide whether a visit on site is worthwhile.
Inquiries from Singapore and India
Matterport technology is also used at Engel & Völkers. Since the beginning of 2017, the brokerage company has been working with this system – not only in Mexico, but also in Germany. For example, the brokers have digitally mapped an almost five million euro condominium in Hamburg's Othmarschen district.
Read also
Christian Evers, Member of the Management Board of Engel & Völkers, says that the virtual tour is very popular. There have been inquiries from Singapore and India, among others. "Thanks to the digital object presentation, our real estate consultants can carry out the visit in realistic quality, independent of time and location," Evers explains. This contributes significantly to" increasing the efficiency of the marketing process".
Of course, 3-D visits are also in the interest of brokers. This way you avoid appointments with potential customers who already notice after a glance that the object is not for you. In the future, according to the expectation, these interested parties will already realize on the home sofa that the apartment does not meet their expectations.
Brokers with 360-degree cameras
"Virtualizations of apartments and houses for marketing will increase," Lukas Pieczonka is convinced. He is the founder and managing director of McMakler, a company that combines real estate brokerage with state-of-the-art technical capabilities. All brokers working for the company have 360-degree cameras that allow you to create virtual tours.
Whether this option is actually used is up to the client. "Already a third of our customers use virtual tours to put their property in the right light," reports Pieczonka. "Unnecessary appointments on site can be avoided, because only those interested in visiting the real estate in reality, who have already liked the virtual tour."
Read also
The Immowelt portal, in which Axel Springer ("Bild", WELT) is involved, treads a slightly different path of increasing efficiency. In October, the company presented its latest marketing tool at the real estate trade fair Expo Real: an apartment viewing via livestream.
To organize them, the broker only needs a special app. Then he walks around the apartment or house with his smartphone and films all the rooms. Interested parties can connect via their smartphone or tablet and follow the visit. Via chat function, you also have the opportunity to ask the broker questions.
This livestream offer has not yet been launched, but it will be online soon, says a spokeswoman for Immowelt. "Especially for people who live far away from their future desired place of residence, this saves time on the first visit."
Via virtual Reality in the unbuilt house
This means that the technical possibilities are not yet exhausted. "First project developers are experimenting with visualizing apartments that have not yet been built – and in such detail that you can even see how the light is coming in," says Immobilienscout24 BOSS Thomas Schroeter. "In this way, even projects that have just been created on the drawing board can be experienced."
The Karlsruhe-based company Inreal Technologies, for example, is active in this field. "We are firmly convinced that virtual tours will become standard in real estate marketing within a few years," says CEO Enrico Kürtös – especially for new buildings.
This is illustrated by Nina Gass, who as Director Sales at Inreal Technologies is responsible for the "Living" area. "If potential tenants or buyers can experience emerging buildings live on the screen long before they are built, they get a completely different feeling for their new office or home – and usually decide much faster," she writes in the company blog. Thus, virtual reality is a valuable marketing tool for project developers.
3D models of office buildings
It is no coincidence that Gass also addresses the office sector. Virtual tours are becoming increasingly important not only for apartment buyers, but also for office users. This is what BNP Paribas Real Estate, a global real estate consultancy, has recognised.
At Mipim, the most important real estate fair in the world, held in Cannes, in March, she presented the use of a technology that allows prospective tenants and potential investors to view real estate without having to be on site.
Read also
The customer puts on 3-D glasses and can then virtually view the 3-D models of those buildings that interest him. At a distance there is a real estate consultant with whom the customer can exchange ideas. "This virtual tour, "says BNP Paribas Real Estate," gives the customer a realistic impression-as if they were on site themselves."
In the housing sector, meanwhile, there is another approach to facilitate the search for the right property: voice control. Immobilienscout24 CEO Schroeter sees great potential in this. "An apartment seeker, "he explains," can say to Alexa or Siri, for example, that he is looking for an apartment in Berlin-Prenzlauer Berg with a fireplace – and then he is shown only apartments with a fireplace. According to Schroeter, this way of searching has the advantage of being "much more intuitive than working with a mouse and keyboard".
Apartment search via Alexa skill
This approach has already been implemented at competitor Immowelt. There, interested parties can use the voice assistant Amazon Echo (Alexa) to search for their dream property. For this purpose, the company developed a skill (that's the name of the apps for Alexa).
"Alexa immediately answers how many objects there are with the desired properties," says the Immowelt spokeswoman. "In order to look at the favorites in detail, it is of course useful to look at the photos and descriptions on the portal immowelt.de to look at."
She does not reveal how often the skill has already been installed. "Exact user numbers do not yet play a major role for us," she explains. It is much more important to be part of the new technology from the beginning and to test its potential.
So, given all these technical possibilities, will the old-fashioned viewing soon become superfluous? The experts agree that this will not happen. Because buying a property, says Christian Evers from Engel& amp; Völkers, is always associated with emotions. "Therefore, the on-site visit as well as the individual consultation by an expert still play an important role."