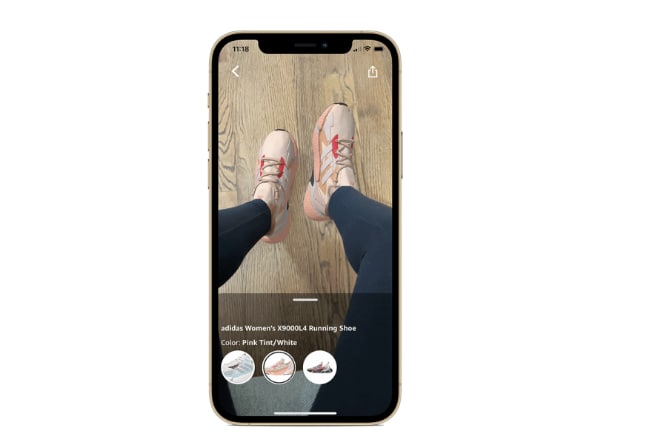 Amazon lets you try on shoes before buying with AR
Virtual Try-On for Shoes currently supports a wide range of popular shoe brands.
Last week, Amazon announced a new interactive shopping experience that allows you to "try on" shoes before buying using a mobile device. Virtual Shoe Fitting uses AR technology to project virtual shoes onto your feet in real time, allowing you to view a potential purchase from different angles, as in a physical shoe store.
Getting started is very simple. Just open the official Amazon mobile app on any modern iOS device and select a pair of shoes from the online catalog. Products compatible with the virtual shoe fitting function will have a "Virtual Fitting" button on the product page.
Clicking on this button activates the camera on your mobile device. After that, it's enough to point the camera at your feet, and a pair of virtual sneakers will appear automatically. You can even change the color and take a picture of your digital shoes to share with friends and family, in case you need a second opinion.
Currently, Virtual Try-On for Shoes supports a wide variety of popular shoe brands. Among them are Adidas, Asics, Lacoste, New Balance, Puma, Reebok, Superga and Saucony, and in the future it is planned to introduce additional brands and styles.
"The goal of Amazon Fashion is to create innovative opportunities that simplify and make it more enjoyable for shoppers to buy fashionable clothes online," said Muge Erdirik Dogan, president of Amazon Fashion, in an official release. "We are pleased to present a virtual shoe fitting so that customers can try on thousands of models from well-known and beloved brands at a convenient time for them, wherever they are. We look forward to customer feedback and will learn from it as we continue to improve this experience and expand the range of brands and styles."
"Innovation and improving consumer experience are the foundation of New Balance. We are excited to showcase our shoe range in the Amazon Fashion virtual fitting as we continue to look for exciting ways to engage our overall customer base," added Melissa Worth, senior vice president of New Balance North America.
Virtual Try-On for Shoes is currently available for iOS users in the US and Canada, although the company has confirmed plans to release an official Android release in the near future.