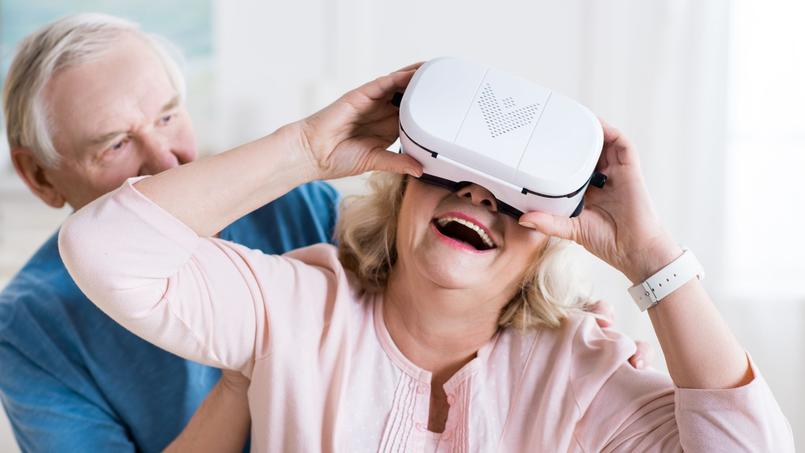 A young graduate creates a virtual reality headset to take the elderly on a journey
A 22-year-old American woman has created a virtual headset to allow older people to travel without having to move.
Travel when one can no longer move. This is the gift that 22-year-old Carleigh Berryman wants to offer to seniors in nursing homes, reports the Washington Post . Founder of Viva Vita while still a student at George Washington University in the United States, this newly graduated entrepreneur created a virtual reality headset to allow older men and women in wheelchairs to continue to discover the world. "It's exciting. It's different, " Jim Halsey, 83, tells the American newspaper.
"A little joie de vivre for these elderly people"
The goal for Carleigh Berryman is "to bring a little joy into the lives of these older people" and "something exciting so they can continue to learn and explore the world". A totally successful experience for these retirees. "It was good to see all these things without getting out of her chair," Alice Murray, 87, tells the American daily. Already, residents who were able to test the device have indicated that they want to try it again.
Thanks to a starting capital of $ 5000 obtained from the New Venture competition of her school for young entrepreneurs where she came 2nd last April and her own money, Carleigh Berryman was able to pay for the equipment and officially launch her company. An investment that would have brought him "a few thousand dollars in recent months" after organizing several virtual reality sessions with elderly people. Today, this activity allows him to live, and to "pay his rent".
Traveling to de-stress
The idea came to Carleigh Berryman when she was interested in the high rate of anxiety and depression among the elderly, which her 78-year-old grandmother was a victim of. "Their symptoms of anxiety or depression go unnoticed or untreated, and it is this accepted part of aging," the young woman told the Washington Post.
According to the Centers for Disease Control and Prevention, in 2017, people over the age of 85 had one of the highest suicide rates in the United States with 20.1 deaths per 100,000 population. The national average for all ages combined is 14 deaths per 100,000 people.