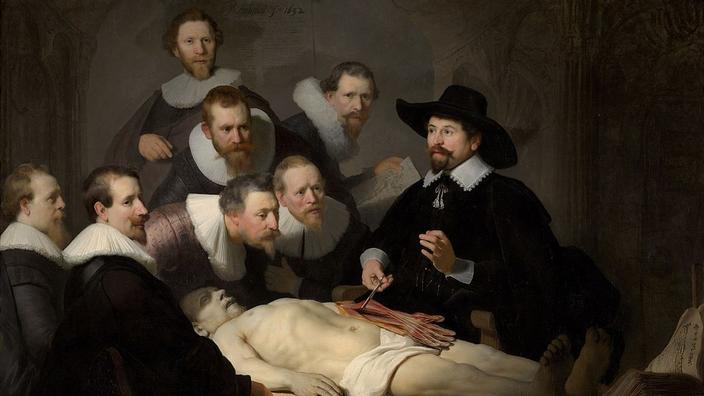 A Rembrandt painting from 1632 comes to life thanks to virtual reality
Thanks to the application Rembrandt Reality, one of the oldest works of the artist, The anatomy lesson of Doctor Tulp becomes as realistic as possible. An experience never seen before in the world of museums.
Using technology to interact with art is the bet that the Dutch virtual reality studio Capitola has launched with the Rembrandt Reality app. On the occasion of the 350th anniversary of Rembrandt's disappearance, the Mauritshuis in The Hague brings to life the painting The Anatomy Lesson of Doctor Tulp. This painting of 169.5 x 216.5 cm, painted in 1632, is one of the most famous paintings of the painter. It depicts a team of surgeons from Amsterdam dissecting the body of a criminal named Aris Kindt, who was sentenced to death at the age of 41 for theft.
The museum and the developer have teamed up to create an atypical experience: entering, digitally, the anatomical theater of 1632. "This is a new, modern way of looking at art, the painting experience of the future," said Emilie Gordenker, director of the Mauritshuis. Rembrandt was a progressive painter. He used new techniques to arrive at a new visual language.»
To read alsoRembrandt masterpiece enters Louvre Abu Dhabi
To make the picture as realistic as possible, Capitola searched for the lookalikes of the main characters of the scene. The company then proceeded to scan the actors using a 3D scanner consisting of 600 SLR cameras. One project required five months of preparation.
An immersive experience
"Art and technology go really well together," said David Robustelli, director of digital technology at Capitola. "It is possible to experience art in a totally different way by going back in time".
The anatomy lesson of Doctor Tulp by Rembrandt, 1632. The anatomy lesson of Dr. Tulp, Rembrandt
The application highlights some details of the painting, invisible to the naked eye. For example, Aris Kindt had lost a hand as a punishment for theft, before his execution. 3D scans accurately show the stump of the deceased's hand. It is therefore possible to immerse yourself in the heart of the team of doctors, to zoom in on the corpse, to better understand the process of medical surgery at that time
Representation of Rembrandt's painting with virtual reality Screenshot Rembrandt Reality