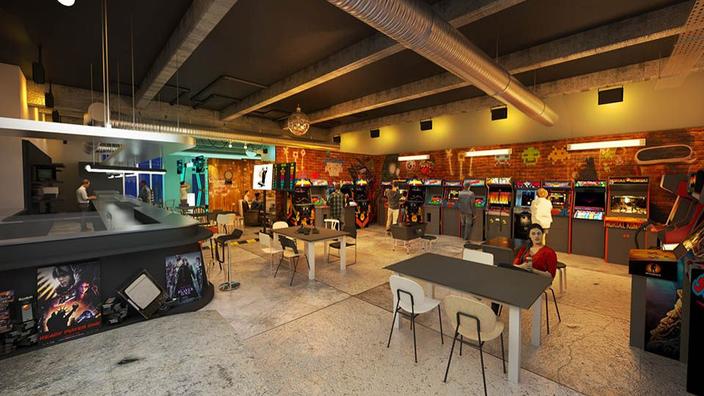 A Ready Player One pop-up bar in Paris
While waiting for the theatrical release of Steven Spielberg's new film, on March 28, a place dedicated to pop-culture and arcade games opens its doors for a week in the eleventh arrondissement.
The sphere of geeks should be delighted. Warner Bros and BNP Paribas transform the organic cantine Le Grand Bréguet (Paris XIe) into an ephemeral "Arcade bar" open to all, free of charge, from March 21 to 27. The goal? Discover the retro-futuristic universe of Steven Spielberg's new film, Ready Player One, before its theatrical release on March 28.
Through several spaces, the public will be able to discover elements of the original setting of the feature film in preview, test five virtual reality experiences or play on arcade terminals and retro consoles (Defender, Gorf, Gravitar, Ikari Warriors, Joust, Marble Madness, Mortal Kombat, Robotron, Sinistar, Smash TV, Spy Hunter and Tapper).
Easter egg hunt
Wade, 17, played by Tye Sheridan. tvhaland.com
The filmmaker, to whom we owe E. T. or Jurassic Park, chose to tackle Ernest Cline's novel, published in 2011. The story takes place in 2045. Ready Player One stages a virtual universe named OASIS. To control it and earn $ 500 billion, a teenager will have to find a digital "Easter egg", hidden somewhere by the creator of this unreal world.
In the blink of an eye, Easter eggs will also be hidden in the Grand Bréguet, in order to immerse the clientele as much as possible in the film.
Arcade Bar Ready Player One at Grand Bréguet. 17, rue Bréguet (XIe). From March 21 to 27, 2018, from 11am to 2am. Open from 8am to 2pm only on March 21. Free admission.