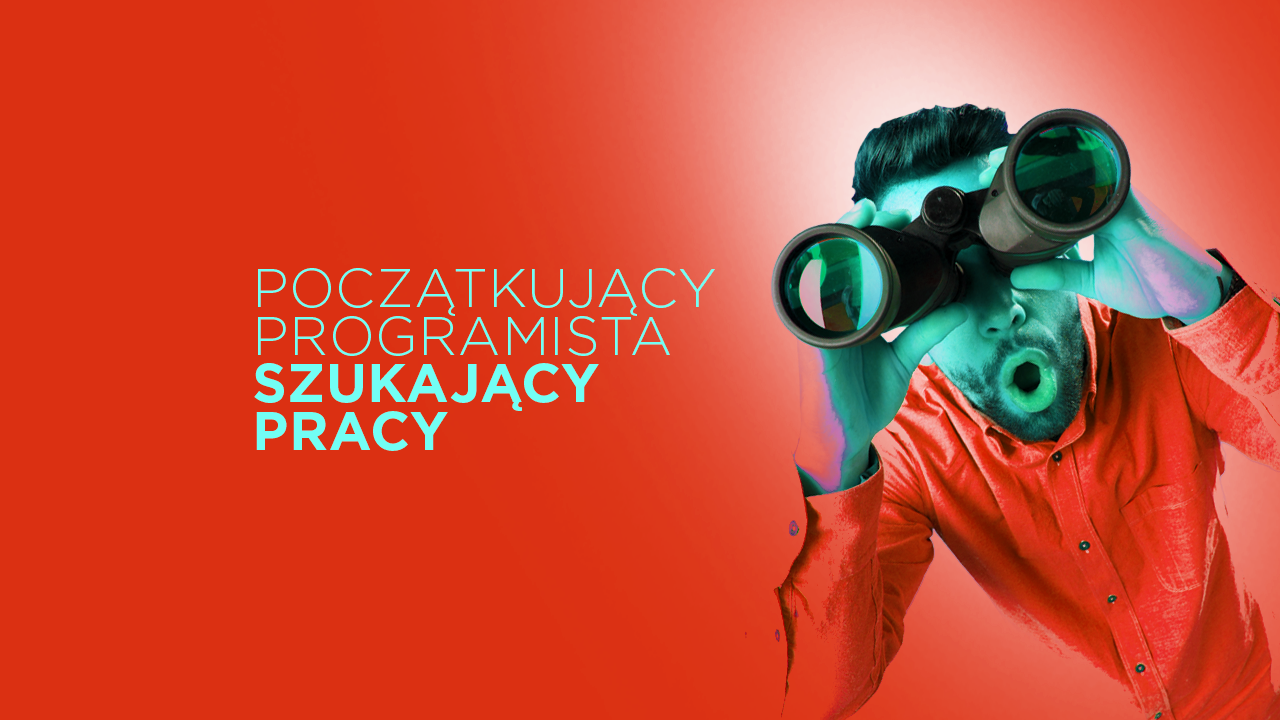 A novice programmer is looking for a job
You hear a lot about the fact that programmers are the professional group that has no problem finding a job. Most of the time, however, we are talking about programmers who have less or more experience. Worse have people who are just starting a career in this profession.
Programming is an activity that requires continuous development, learning new things and technologiesif you want to make a career. This is also an element of motivation in this profession, which we have already written about in one of our articles. Of course, it is always easier for people who are already on the labour market. To them, most often, recruiters themselves report.
Unfortunately, novice programmers who are just starting their professional careers have to put more effort into getting a job. Often, their idea of work is out of step with reality, and they have to start their career with an internship or a low-level position. However, this should not be surprising-no one will entrust them with responsible tasks without any certainty or at least the assumption that they will work.

Studies and work
In fact, it is worth looking for a job while still a student of computer science. More and more young people are starting their professional careers as early as the fourth year, and after graduating from university, many programmers already have at least an internship in an IT company. The situation on the IT labour market and staff shortages estimated in Poland up to 50 thousand. developers make it IT companies are increasingly fighting for employees and are eager to establish close cooperation with the academic community. This is a great opportunity for young people who want to start a career as a programmer.
More and more IT companies cooperate with universities in the field of recruitment. They organise training, educational and research projects and internships. Each of these solutions is a good opportunity to show yourself to a potential employer and interest him in your person or simply gain any experience.
The list of companies that are willing to invest in cooperation with universities in order to get good employees in the future is not small. We discussed this topic in more detail in the article"10 companies willing to hire IT students". Here you can list such employers as Atos, Asseco, Cisco, Comarch, IBM, Motorola Solutions, etc. Interested readers are referred to the above article. Here we will only remind you that companies offer students internship programs, summer internships, open days, and even cooperation in writing a thesis. It's not uncommon for the best students to get jobs. This is an ideal way for a young programmer to appear on the job market, but of course there are many.

Programmer without experience in the labor market
For various reasons, not all novice programmers find employment or even participate in internship programs in college. Many young people enter the labour market only after completing formal education. Some developers are also self-taught, who are trying to enter the IT industry after several years of intensive study on courses or after retraining. However, it should be emphasized that lack of information about the experience in the resume does not immediately put the candidate in a lost position, although he should not count on the position of senior or architect.
Attitude
First of all, the attitude of a novice programmer is important. If a company is recruiting and looking for people without experience or with little experience, there will be no huge requirements and it is worth keeping this in mind during the job interview. The worst thing a novice programmer can do is stay passive and wait for someone to notice and hire him. That's unlikely. There is another issue-novice programmers are often at the same level, so it is worth to stand out from the crowd and attract the attention of the employer. The way to do this can be to write your own program, it does not have to be anything extensive. Its code can be shared (e.g. on CodePlex or similar platforms). It is also worth taking part in open-source projects and in programming contests. Then you can put it on your résumé.
True
Another point concerns the truth. The thing is that most often it does not pay to lie in application documents or even colorize about knowledge of various technologies and programming languages. Untruth can quickly come to light during a recruitment meeting, and then with a high probability the employer will thank such a candidate. It's hard to hire someone who has already failed in the beginning.
Development
Looking for a job in the profession of a programmer, it is worthwhile at the same time to constantly develop and learn new issues. Of course, much depends on what technology we want to specialize in, but it is worth having an idea of such areas as, for example, version control and the use of design patterns in practice. You need to develop a habit of showing that you can solve problems and seek solutions. Increasingly, various institutions (e.g. employment offices) are also organising job-guarantee courses for the unemployed in cooperation with IT companies. This was the case, for example, in Gdansk, where the course participants were employed by Jeppesen, desmart, Kainos and playsoft.

At the end
Instead of a summary, we have advice for novice programmers: do not give up in search of your dream job. Do not give up constantly sending applications and going to recruitment meetings. In the meantime, gain knowledge and experience in non-profit projects. It will bring results 🙂