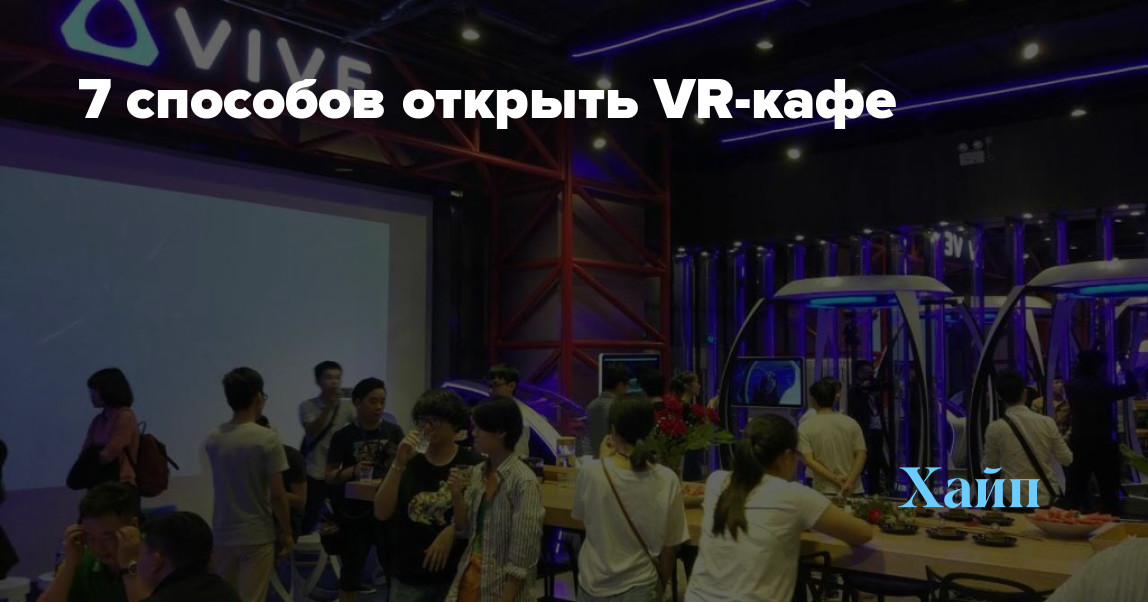 7 ways to open a VR cafe
Over the past 3 decades, Internet cafes have firmly taken their place in the market and have filled almost the entire world. Also known as cyber cafes, these establishments provide their visitors with access to the global web, especially for those who do not have the Internet at home.
The astronomical growth of virtual reality technology has created a new business model that promises to revolutionize the industry. Welcome to Internet Cafe 2.0 – VR Cafe.
Photo: Haptical
Traditional Internet cafes benefit both their owners and customers, and the growth of these establishments in developing countries continues to be impressive. Nevertheless, virtual reality offers almost unlimited possibilities for creating cafes, even in non-industrialized countries. By shifting the focus away from internet access services to immersive VR experiences, you can turn your average internet café into a highly lucrative tool.
We have compiled a list of 7 ways to grow your internet cafe business. Some of them offer to lease the facility to organizations that need to provide VR training content to their employees. Other ideas suggest selling VR entertainment directly to your customers. We'll also cover the main advantages and disadvantages of each.
Let's start.
1. VR games
Advantage: guaranteed income
VR games are at the very top of our list for a reason. According to analysts' forecasts, the market revenue of the VR gaming industry will be $ 45 billion by 2025 and these numbers simply cannot be ignored. Even if you are offering non-VR gaming services to your customers, it makes sense to create a gaming room that provides your business with an inexhaustible stream of gamers all day long. The result is additional income.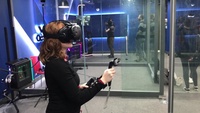 Photo: YouTube
Nowadays, most gamers cannot afford to purchase a quality VR headset, let alone a powerful PC, which is also indispensable. As a result, your business will attract all these people, as well as those who are simply interested in VR technology, which is a fairly large audience.
Cafe owners now have the opportunity to provide popular anime and video games to their customers in the most profitable way. For example, Animate Ltd. from Japan created the Animate Cafe Shops network, which has become a popular destination with tourists. The overwhelming public interest in Animate Cafe Shops even led the company to use a lottery-based seat reservation system, proving the overwhelming success of this kind of establishment.
Disadvantage: equipment cost
Like most VR services that you can offer your customers, VR games require a lot more physical space than a typical internet cafe. Virtual reality is not only visual but also physical sensations. You must provide enough space for each client to enjoy the VR experience to the fullest without disturbing other visitors. Ensuring a safe distance between players is one of the main conditions for such a business.
In addition to the large area, you will need to purchase suitable headphones, controllers and other equipment necessary for gaming. Here you will have to spend money and you will not get away from it: however, as your business grows, you will find that the investment will quickly pay off.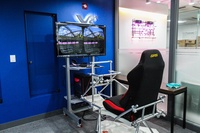 Photo: Seoul Space
And finally, one more nuance that should not discourage you: not all of this game income is yours. And this is not about income tax, but about the license for the games you use. There are two options here. The first is to conclude a licensing agreement with the creator of entertainment content, the second is to order the development of new VR games for their business by companies that are engaged in this, and then receive 100% income without any deductions.
2. VR-quests "Escape from the room" (VR escape room)
Advantage: interactivity
Do not confuse VR escape room with regular virtual reality games that we discussed above. Instead of providing each client with a separate place to play, VR escape room immerses several gamers at once into one limited virtual space, from which the team must escape. To win and free themselves, the participants must solve riddles, puzzles and logic problems.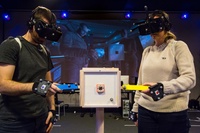 Photo: vrscout.com
VR rooms like these provide not only an unforgettable experience, but also interactivity. Even people far from the gaming industry come back again and again to experience these exciting sensations and go through the next VR quest even faster. And the most important advantage of VR escape room is that 4-5 people participate in the game at the same time.
Disadvantage: Complexity of setup
Apart from the small space dedicated to the game, you will need specialized software. There are already many ready-made solutions, but if you wish, you can create your own VR escape room, for example, with a unique design. There are several development companies that create such quests and all related software.
3. VR training
Advantage: a promising service for corporate clients
Virtual reality has long been used to train workers by both small and large companies. As a VR café owner, you can take advantage of this fast-growing segment and start renting out space and equipment. Most companies have already realized the full benefits of VR technology in the process of training employees, however, not all companies have the opportunity to purchase all the necessary equipment and therefore will have to turn to you.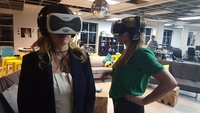 Photo: VentureBeat
As third-party developers continue to create software for training employees in a wide variety of professions, the demand for such VR cafes will continue to grow. And since a corporate client will come with his own training materials, then you will only need to provide equipment, space and a minimum level of support.
By adding VR training to the list of services in your cafe, you can attract not only corporate clients, but also ordinary people who may need such a service.
Disadvantage: high hardware requirements
The main difficulty is that your establishment will need quite a lot of VR headsets and computers to accommodate a large group at a time. However, all your expenses will quickly pay off once word spreads that your cyber cafe offers such a sought-after and unique service.
4. VR education
The difference between this and the previous point is that instead of corporate clients, you offer your services to educational institutions.
Despite the fact that in some schools in the US and Europe there are already conditions for teaching children using virtual reality, many of them do not have such opportunities. Of course, you should not expect crowds of schoolchildren to visit your cafe every day – however, they will definitely come to you several times a year.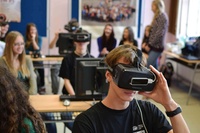 Photo: wear-studio.com
In addition, in the eyes of parents, the status and attractiveness of the educational institution increases, which, along with ordinary education, offers innovative teaching methods. And all you have to do is to conduct a competent marketing campaign and all nearby schools will be in "your pocket."
Disadvantage: high hardware requirements
As in point 3, the main problems are the availability of free space where you can place the whole classroom, as well as a lot of PCs and VR headsets that will have to be spent on. Nevertheless, it is definitely worth paying attention to this market: by making the learning process interesting and interactive, you will not only attract the attention of educational institutions in your district, but also very quickly recoup all your investments.
5. VR workshops
Advantage: corporate clients
If you yourself are extremely passionate about VR, then you may consider the idea of ​​conducting seminars on virtual reality for local companies that are eyeing this technology. By providing informative training and educating customers about the possibilities of VR, you are not only providing them with valuable service, but also making money.
Photo: galaxyvision.ru
Your target customers in this niche will be small as well as medium-sized organizations that are considering introducing VR technologies into their production.
Disadvantage: Expertise on the topic
Your knowledge of virtual reality technology should be above that of the average consumer if you are going to conduct seminars. Of course, no one requires you to be proficient in VR programming, but you should be proficient with hardware and software. In addition, you must offer your customers new ideas that have not been demanded until now on the implementation of virtual reality in their business.
6. VR events
If your cafe is located in the center of a metropolis, then there is a high probability that many companies will want to hold various VR events at your place. And if the company is large, then it will already have its own content and its own audience – you just need to provide a place and appropriate equipment. As the marketing potential of virtual reality becomes more evident, more and more companies will use your services to impress their customers with extraordinary VR presentations.
Photo: Medium
In addition to corporate events, you can also pay attention to private parties. Birthdays, fundraising, various promotions – all this will attract people's attention to your business. You only need to actively advertise yourself. And by purchasing a license for entertainment content, you can host multiplayer gaming tournaments, 3D concerts, or even virtual tours of the galaxy.
Disadvantage: Lack of content
If corporate clients, as a rule, come with their own content, then for private events you will have to get the necessary software yourself. And while the list of available VR apps is constantly growing, we are still a few steps away from the day when VR entertainment content will truly be available to the general public.
7. Service
Advantage: low cost
The best solutions are always the simplest. Regardless of which method of attracting customers you choose, you can generate additional profit by creating a comfortable environment for the customer.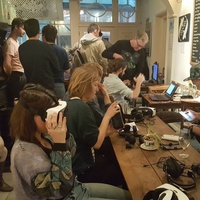 Photo: Pinterest
Food and drink, printing and scanning documents – all these accompanying little things are important to your customers and they are willing to pay for them.
As with many other types of businesses, you can increase your sales by creating customized offers for corporate and private clients.
Disadvantage: Increased headcount and supply
For all this, you will need additional service personnel who will not only provide refreshments and snacks, but also help, for example, scan a document. In addition, you will need to maintain an adequate supply of food, drinks and printing supplies.
Conclusion
Perhaps the creation of a VR cafe is fraught with many problems, but this type of business promises to be very profitable. As virtual reality becomes more popular, consumers will look for ways to learn more about it. And if you can offer them an inexpensive way to experience VR games, watch 360-degree videos, then you can get your share of $ 37.5 billion – the total virtual industry market that analysts predict by 2020.
Author: Dmitry Ternovoy – IT business publicist, industry insider and content manager at AppReal-VR.
Translation with VentureBeat