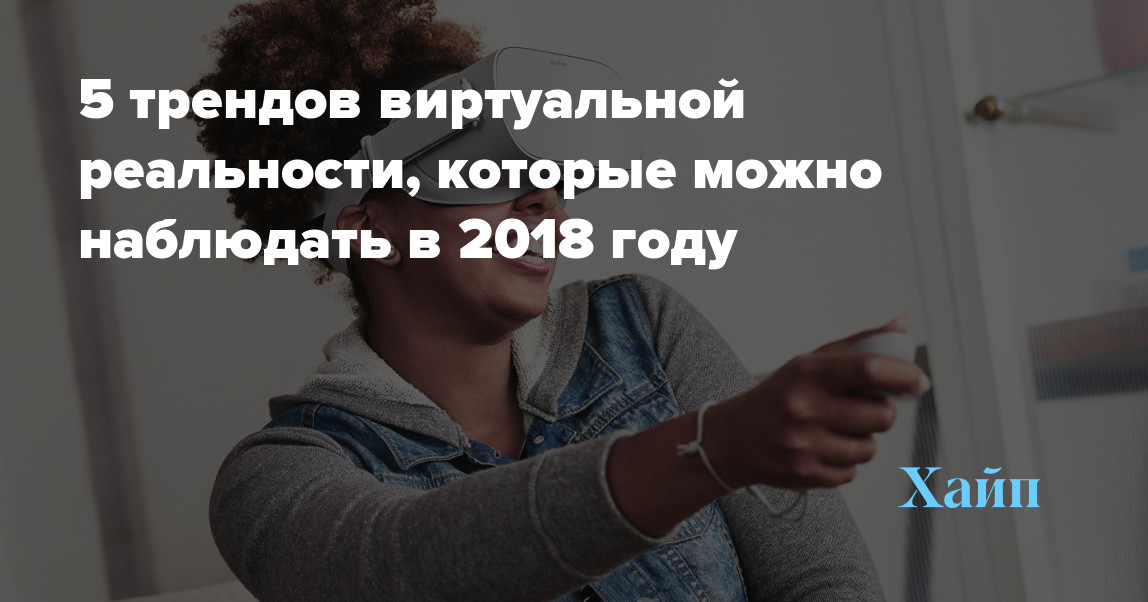 5 virtual reality trends that can be observed in 2018
One of John Stevenson's (author's) predictions is that virtual reality will gain even more popularity in 2018. Looking at the growth trajectory of the VR industry over the past few years, it's clear that great things lie ahead for new technology. For example, just a few years ago (in 2014) there were only about 200 thousand active virtual reality users.

Photo: www.aivanet.com
Last year, their number increased to 90 million, and in 2018, according to preliminary forecasts, the number of VR users will grow to 171 million (almost double that of 2017). The graph provided by the Internet resource Statista.com will help us to see this clearly.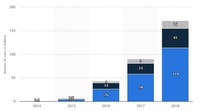 Photo: statista.com
It's becoming clear that the VR industry is growing exponentially. Now for an even more interesting fact: the virtual reality software industry has gone from a tiny industry of $ 129 million (in 2015) to a gigantic forecast of $ 2.57 billion in 2018.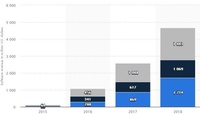 Photo: statista.com
According to analysts, the total volume of the entire VR industry in 2018 will be estimated at $ 5.2 billion, and by 2025 this mark will exceed $ 45 billion. And it all started in 2014, when all VR was only worth $ 90 million.
Without a doubt, virtual reality simply needs to be paid close attention, but what should it focus on? Here are 5 trends in the VR industry.
The rise in 360-degree videos
According to Omnivirt, 360-degree videos received a higher level of user engagement in 2017 compared to regular content. The data was obtained by analyzing user behavior, as well as the number of views of VR videos. In addition, the Omnivirt study also showed that more and more brands are starting to use the new format. In addition, the quality of this content is gradually improving.
Major players who have used VR and 360-degree videos are NASA, Microsoft, IBM, Honda and Ford. In fact, the 360-degree YouTube channel already has nearly 3 million subscribers. Looking ahead, we can safely say that the number of videos in the new format will only grow.
Advertising – VR engine
It is the use of virtual reality in advertising that will become one of the main factors in the growth and development of the entire VR industry.
Signs of this have been visible for a long time: last year Google announced its experiment with virtual reality ads that respond to the user's eyes, Infinity teamed up with OmniVirt to get people to test drive the Q60 in VR, and Chick-fil-A launched VR – a website dedicated to the famous "cow" advertising campaign under the slogan "Eat Mor Chikin".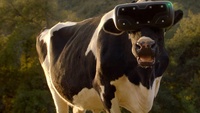 Photo: VRScout
These are just a few good examples of VR marketing in action, and there will be more such advertisements in 2018, driving further growth in the industry.
Growth in the number of VR developers
The development of any industry directly depends on talented and capable specialists. The only obstacle to the exponential growth of the VR industry can only be a lack of talent. However, virtual reality is not easy to stop, so the demand for VR developers will only grow.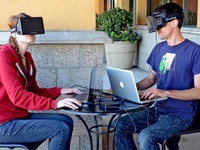 Photo: imenno.ru
In fact, large corporations are already taking steps to reward producers of VR content. So, for example, in 2017 in an experiment with VR advertising, Google stated that the ultimate goal of the project is to help developers of VR content.
An even more immersive VR experience
Perhaps most importantly, virtual reality is becoming even more real. In other words, advances in technology will lead to an even deeper sense of immersion in VR.
More recently, HEAR360 was announced – a device consisting of 8 microphones that are capable of capturing sound from any direction, i.e. 360 degrees. It can then be used in VR, allowing the user to hear sound from the front, back, side, above or below the listener's head. Thus, the realism of the user experience in virtual reality is increased.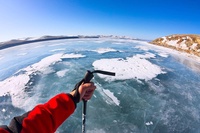 Photo: hear360.io
Such a device will undoubtedly generate interest from manufacturers of VR video content. This innovation will also come in handy in the creation of VR ads. And this is just the beginning.
There is a possibility that VR devices will soon be able to use not only sight and hearing, but also the sense of smell and even tactile sensations. In other words, you can look forward to an immersive and incomparable VR experience this year.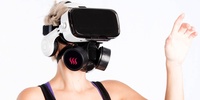 Photo: fainaidea.com
Reducing the price of VR products and increasing their availability
Back in 2017, Oculus and HTC started a race between themselves, which resulted in a $ 200 price cut for both companies' VR headsets. This tendency will develop this year, and then in all subsequent ones.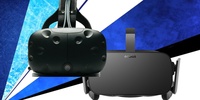 Photo: digitalspy.com
Regardless of the development of software or hardware, virtual reality will only become popular when VR products become available to the average user. Currently, most VR gadgets cost from $ 1000 and more, so not everyone can afford to buy them.
In the near future, we will see a change in this situation: already now the cost of VR equipment is decreasing, there is a gradual price adjustment, which will soon make virtual reality available to the masses.
Based on materials from thenextweb.com