What is the difference between outsourcing and outstaffing?
Today outsourcing and outstaffing are two quite popular business practices in modern business, as they are quite often used for the implementation of projects of varying complexity. The modern business world does not stand still and is constantly evolving, so there is a growing demand for outstaffing and outsourcing services.
Many modern businesses and large companies choose outsourcing and outstaffing as a cost-effective option to provide many business benefits.
Over time, the demand for outsourcing and outstaffing services has increased due to the ability for companies to focus on their primary objectives, like the ability to reduce time to market and reduce risk in projects. Outsourcing and outstaffing are usually used in different kinds of business, as there is an opportunity to get a wide range of services in the sphere of IT development, customer service, marketing support and so on.
What is outsourcing?
Outsourcing involves a process in which a third-party company or development team is hired to provide a number of specific services to your business.
With this business strategy, it is possible to perform a number of business functions that a company cannot do on its own. There are many reasons why companies are willing to outsource some of the work on a particular project. First of all, it is freeing up internal resources for other projects, reducing labor costs, saving money on hiring regular employees and increasing the efficiency of work processes.
In addition, outsourcing is often used when a company needs to acquire special skills and knowledge it does not have. This can be used to save the company's budget by hiring more qualified specialists with experience working on similar projects.
Among the main advantages of outsourcing are the following:
Gaining access to a specific category of specialists who have the necessary skill set when working with specific project specifics.
Beneficial cooperation with freelance developers, programmers and other specialists without the need to hire them on a full-time basis.
The company gets more time to accomplish its core tasks.
Organizations get access to the best human resources in the global marketplace compared to those that may be available locally.
Companies get full control of their workflow.
What is Outstaffing?
A practice such as outstaffing involves hiring contractors or remote contractors to handle those tasks that a company is unable to perform on its own. Companies get access to a team of professionals who are able to provide full and comprehensive support of their projects. Outstaffing is often used as an alternative to hiring new employees on staff, so it is in demand both for large companies and to help a team of professionals.
This practice has been around for decades, but has recently become more and more popular because of the cost-effectiveness and convenience of cooperation.
Outstaffing is known for such benefits
Outstaffing can be used by both large companies and startups, as this business process is cost-effective and does not need any prior investment in people.
When hiring professionals, organizations can use it as a short term for a specific project or use the hiring on a permanent basis.
Companies can select specialists with specific skills that are not available in a full-time format, based on the company's needs and personal interests.
With outstaffing, companies are able to manage their workforce in the best way possible and hire specialists only when they are needed, which in turn reduces the risk of high costs due to the large number of in-house employees.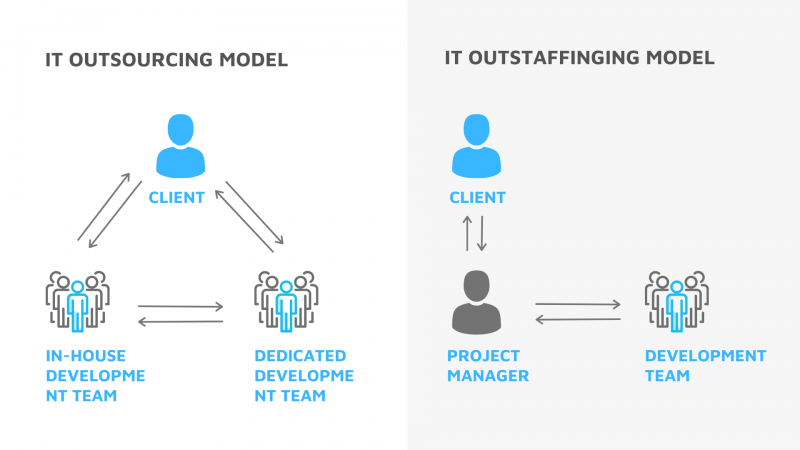 What's the difference between outsourcing and outstaffing?
Outsourcing and outstaffing are quite popular business services, with the help of which modern companies can improve the efficiency of their business processes and operations management. The main differences between these two practices are that with outsourcing, it is possible to hire an outside company to provide services, while outstaffing is essentially the remote hiring of contractors who can perform certain tasks as needed.
In either case, the choice of a particular strategy will depend on the specifics of the job and the needs of the particular business. Outsourcing is more preferable when the company needs specialized services, while outstaffing is used when there is a need to solve common tasks in the company.
Outstaffing is often used upon request to expand its workforce without the need to hire full-time employees, when there is a need for skills that are not available within the company.
It is noted that outsourcing can be a more profitable solution compared to outstaffing, but it does not have the same flexibility, as it is not always possible to control the process of hiring specific specialists, with a certain set of skills. Outstaffing companies have access to a wide selection of specialists, so there is a high probability of selecting exactly the one who will meet the specific requirements and the calculated budget.
How to choose outsourcing or outstaffing for your business?
Outsourcing or outstaffing as a popular business practice is quite common in today's business world and such services are provided by SevReality at the highest level. It is not surprising that many modern companies wonder when to outsource project development and when to hire outstaffing personnel. Choosing the right business strategy will depend on the goals and needs of the company, as well as on the opportunities that exist at this stage.