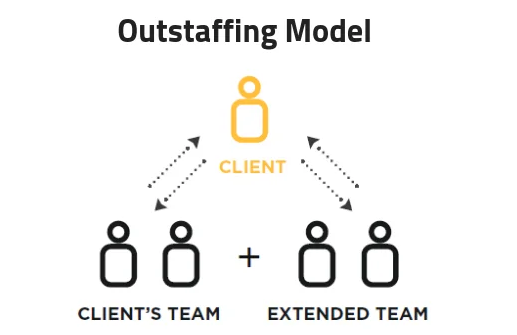 What is Outstaffing model?
Outstaffing is a modern business strategy that allows you to hire remote employees for temporary and project work. With outstaffing, you are guaranteed to get the benefits of working from your own team at a fraction of the cost. It's a more profitable way to outsource than hiring new employees or participating in offshore outsourcing. A company outsources a business process or minor tasks to another company, and then its employees work at a level with the outsourcing company preparing the same project.
Our company's outstaffing model is a more efficient and less costly way to outsource personnel for short-term projects. By outsourcing your business's short-term projects to our company's outstaffing experts, you get the benefits of managing your employees without the cost and hassle of working around the clock.
The outsourcing model is an important process of every modern business that involves hiring a performing company or individual to perform some or all of the functions necessary for the company's operations. Among companies that need to outsource their work, the outstaffing work strategy is becoming increasingly popular. It allows them to focus on what they do best and outsource everything else to other professionals.
With outstaffing specialists from our company, your business can grow at a faster rate by focusing on your core competencies instead of constantly trying to do secondary tasks yourself.
Who is a remote employee and how does he or she work?
Is your company ready for an employee who can work from another location? Remote work is no longer an unusual practice. More and more companies and independent workers are relying on it to save time and money, reduce office space needs, increase employee satisfaction and productivity, better manage energy costs and stay competitive in today's workforce.
To learn more about how your company can take advantage of remote employees, you can contact us.
How can I outsource tasks and activities to high-end remote employees?
High-end remote employees are the key to productivity and success for many companies. Hiring remote employees has many advantages, such as more competitive rates, greater availability and a willingness to handle projects of varying complexity.
Our company offers innovative staffing and recruiting solutions for dynamic, growing and fast-growing companies. We are a trusted, professional recruiting partner for a variety of businesses and organizations. We also offer personalized recruiting and staffing solutions whose skills and abilities match the unique needs of today's workforce, and help our clients create a competitive advantage with their workforce. Outstaffing is the best solution for your business or startup. Outstaffing connects you with talented professionals who are experts in their field and can help you achieve your goals quickly – whether it's sales, tech support, data entry or any other service.