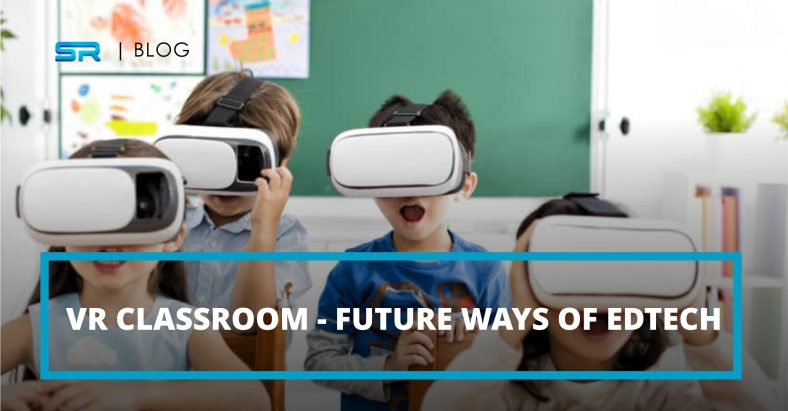 VR Classroom – Future Ways of EdTech
At modern expos devoted to EdTech VR ideas for learning were the headline topics. Virtual reality in the classroom is able to fundamentally change the idea of learning.
The Benefits of VR
Usage of virtual reality apps for the classroom recovers a lot of new abilities and privileges for studying process in those subjects that are too complicated for an ordinary perception. There are some benefits of virtual reality in the classroom in general.
 Visual benefits. Three dimensions used for recovering chemistry can explain them without using harmful fluids or dangerous chemical compounds. Virtual reality for the classroom helps teacher to make the demonstration of everything closely to children and allows to choose any degree of detailing. And it is quite safe for all the members of the lesson even if you are modeling a nuclear explosion or discovering of a Big Bang process.
Involvement in a process – students are not only spectators but the active members of every experiment, and each side can change the rules during the process, make some steps in it in a quest-like mode or even create a game for solving theorems and math tasks.
Focusing. No doubt, students sometime can lose the focus on the subject of the lesson. Being fully surrounded by circumstances of the problem you are studying in the virtual reality in the classroom you have no distractions at all.
How Does It Look Like Just Now
Virtual reality used in the classroom offers extraordinary abilities for the transfer of knowledge. Though the classic style of studying is not distorted, since each session is complemented by a 5–7-minute immersion. A scenario can be used in which a virtual lesson is divided into several scenes, which are included in the right moments. The lecture remains, as before, a structure-forming element of the lesson. This format allows you to modernize the process, to make the members of the lesson immerse fully in the process.
How to implement it in EdTech? Modern developers offer a lot of original and convenient solutions for organizing a virtual reality for a classroom.
Nearpod is one of the first comers to integrate educational classics into the use of modern digital and commonly-used devices. This is an online platform that allows teacher's creation digital material for their classes and share it with the learners in every moment of studying. You simply send the digital code via e-mail or through social networks to connect your students to the general action. You scroll through the slides, setting the pace of the lesson yourself, involve the children in creative tasks and track the results in real time – all with the help of a gadget, which usually only gets in the way. Nearpod easily interacts with the simplest versions of Google Cardboard helmets, with the result that students can immerse themselves in virtual reality during the lesson using their own gadget and simple, inexpensive helmets that many educational institutions can afford to buy. The Nearpod VR price is one of the main factors of its popularity in EdTech because virtual reality devices are often expensive, and not every school can allocate money from the budget for virtual reality class equipment
Google Expeditions – of course, Google, as a developer of virtual reality equipment, could not stay aside. And a convenient and modern education solution for Google Expeditions is one of the best modern products for students and schoolchildren, and it is also very inexpensive. All you need is a tablet, headphones, a Google Cardboard helmet — and students can go on an exciting journey with full immersion around the world. With Google virtual classroom, you can organize the most interesting lessons or lectures on geography, biology, cultural history and even go into outer space!
One of the largest developers of solutions for EdTech cluster is EON Reality. Their products are striking in their diversity – from standard options that are implemented according to a similar scheme with Google or Nearpod, to high-tech virtual reality rooms with the effect of total immersion. EON also offers a new format of learning in the form of MR (mixed reality) products, in which augmented reality is combined with elements of virtual reality and forms an interesting and informative environment of a virtual reality class simulator for exploring new knowledge. According to a company representative, this is exactly the format of education that should be in the 21st century.
Modern technologies allow to fil in the learning process with bright colours. The student simply scans the tutorial page using a smartphone, and instead of a boring black and white image, his screen will display a flat or three-dimensional model and a headset can fully teleportate a person to the world, described on the book pages. This way of visualizing information makes learning fun, increases interest in reading and contributes to understanding and memorizing material.