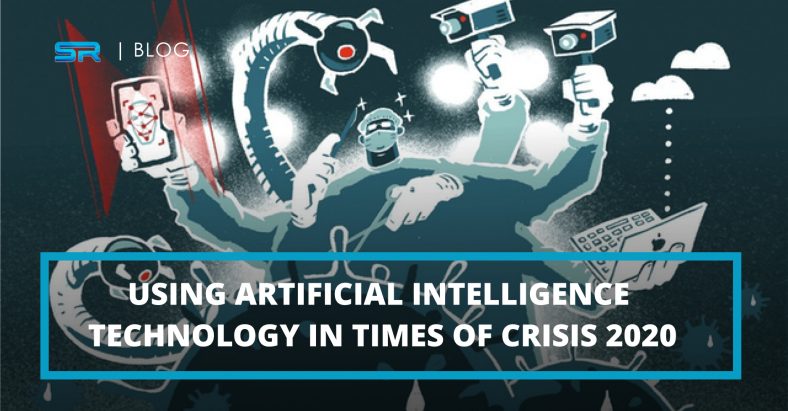 Using Artificial Intelligence technology in times of crisis 2020
Artificial Intelligence was on the frontlines of battling coronavirus from the first days of the outbreaks. Hospitals use the technology to help diagnose patients, whereas scientists apply AI during research and modeling. So far, we've seen that AI technology, often together with blockchain, is a big help in analyzing coronavirus' genome, evaluating treatment options, analyzing clinical reports, and approving diagnosis.
However, healthcare isn't the only field that will be ravaged by the coronavirus crisis. Experts are overwhelmingly negative about a grim situation that society is facing after the outbreak. Even if humanity manages to wipe the virus out, we'll be left with economic consequences. Luckily, AI technology may be able to give us a hand – and not only in healthcare, but in the manufacture, fintech, in combination with blockchain, HR, and other fields.
Main capacities of Artificial Intelligence in data processing, fintech, and management
The main thing that makes AI superior to human experts is its capacity to analyze large volumes of data in a short period. Artificial Intelligence can trace patterns, find connections, and paint the bigger picture. Most importantly, it can work with large data samples and product tangible conclusions.
Another application of AI technology is automation. During the coronavirus outbreak and lockdown, companies are bootstrapped in human resources. Manufacturing and services are put on hold in many countries – there are simply no workers to do the job. AI and its automation possibilities are the answer to this HR crisis.
Let's take a look at how AI-based digital tools can help companies to face coronavirus economic crisis and its consequences.
Practical application of Artificial Intelligence during COVID-19 crisis
Let's take a look at how governments, businesses, and research organizations are using AI to face critical situations. AI can help with many aspects of predicting and responding to economic risks that will likely arise over 2020-2021.
Lockdown control
The main goal of governments all over the world is to assure that citizens stay home and follow the guidelines and laws for the lockdown. Artificial Intelligence has been used to monitor infected citizens and track compliance with quarantine laws.
South Korea, for instance, built a digital app that detects the number of infected users within a radius of 100 meters. If there's an infected person near you, you will get a notification. The application sparked controversy among Koreans and in the international community (because it could discriminate infected people), but it helped the country to contain the spread of coronavirus.
Data processing during a healthcare crisis
AI technology has been used by scientists and doctors to get access to the latest information on coronavirus new symptoms, treatment options, dangers, side effects. COVID-19 Open Research Datasets can be used to get information and COVID progress in real-time and deliver real-time insights.
What's more important, similar systems can be used beyond healthcare. All businesses can use AI data monitoring digital tools to track changes in their industries, get updated on potential risks and opportunities, and react faster. To stay successful during a crisis, companies have to keep track of technical and financial changes, and this leads to the need of active data processing.
AI for predictive maintenance
The first-priority goal for companies is to minimize unnecessary financial spendings. AI technology can analyze big datasets, evaluate hardware performance, check the machinery to detect issues before there is an evident malfunction. Now, this is especially important for healthcare tech, but similar technologies can be used in other fields, too.
AI-maintenance can help detect serious technical issues, reduce spendings and financial risks by minimizing the number of downtimes, saving time of tech specialists, and preventing accidents. Hospitals will likely be on the frontline of adopting such innovations, but other industries should consider implementing AI-based maintenance as well.
Management with Artificial Intelligence
Educated management decisions during a financial crisis matter more than ever. Businesses need to make data-driven decisions because there will be less room for experiments and mistakes. Implementing digital AI technology in ERP and CRM platforms is an essential step in 2020. This way, companies will be able to reduce HR costs, automate organization processes, manage their costs, and internal processes more effectively.
Artificial Intelligence for collaboration
Companies can use AI-based digital platforms to power communication between employees, partners, and stakeholders. AI systems can provide a smart communication environment for teams who only started their transition for remote work.
Automation: AI technology can sort through messages in different communication channels, saving employees time;
Improving management: AI can help managers to oversee the efficiency of their teams. AI can measure the productivity of every employee, assign, grades, and give HR suggestions.
Facilitating onboarding: AI technology can be the one to teach new recruits and collect documentation with the company's best practices.
The key goal of companies during a crisis is to minimize unnecessary spending and time expenses. A business budget should be focused on essential tasks.
AI-based fintech solutions and economic platforms
Traditional financial operations, banks, and offices experience a need for a fintech transformation. Now, most clients can't visit a bank, and even people who weren't enthusiastic about adopting digital payment solutions, now accept the opportunities and fintech and blockchain has to offer.
Payments aren't the only aspect of fintech that will be disrupted. Financial documentation, insurance, security confirmation – users now have to make a lot of operations remotely. Banks and financial institutions need fast websites, mobile fintech and blockchain apps, data storage and processing algorithms, security testing. After fintech transformation, possibly powered by blockchain,  institutions can be sure that user experience is comfortable and secure.
Criteria for AI implementation
Artificial Intelligence is especially effective when it has large volumes of data to work with. This obviously creates challenges: companies need to protect users' privacy and assure the security of the solution. If you are thinking about implementing AI technology in your company to get your business through coronavirus crisis, consider these key requirements.
Usage and timing limits: the use of all data should be restricted only to a particular scenario. AI should collect data just in case if it's not needed by any processes.
Fair use: the AI system should treat all users the same way. You need to use tried-and-proven databases to train your AI technology. No racist, sexist, or other discriminatory messages.
Transparency: all users should know what data is collected and how it will be used.
Accountability: your organization should have people who are responsible for data security and processing algorithms.
Security: many companies adopt decentralized data processing (blockchain) to distribute data between many locations to decrease the risk of breaching single storage. Blockchain allows storing information in a peer-to-peer network where each transaction is confirmed by other participants.
AI is a leading technology in facing a coronavirus crisis
AI has tremendous potential of resolving risks that arise during a COVID-outbreak and potentially can cause problems later. Artificial Intelligence can help with assuring that quarantine measures are respected, help in research, accident prevention, smart management, and collaboration. AI-based fintech technology will minimize the need for human interactions during financial operations – and they will likely be there to stay after the outbreak.
The applications of AI in 2020 will not be limited to the healthcare industry. Companies across many fields will benefit from smart tools that will help make educated management decisions and optimize their internal processes, and fintech operations.