GoPro Max: observation of 360 camera. Relevant VR content - GoPro Max
We use cameras everywhere and want to memorize the most precious moments in our life.it is logic to suppose that for these shared moments we need high-quality cameras. One of them is Gorpo MAX.
[TEST] GOPRO MAX: THE CHAMPION OF 360 ° CAMERAS More than just a 360° camera, the GoPro Max allows you to create VR content. She tries to reinvent the image that users have of this type of device, including an emphasis on creativity.
360 ° cameras are constantly invading the market. Newer devices enjoy increasingly interesting features to amaze users. The Max model from GoPro makes it, among other things, part. But what really distinguishes this small gadget from its counterparts ? Here is our product test to find out. GoPro Max: when the youngest takes over
In case you still don't know, GoPro's first 360° camera was born two years ago. She named it GoPro Fusion. It must be admitted that this eldest of the 360 ° cameras of the brand did not really succeed.
It is indeed rather bulky. The proof: it requires two micro SD cards, and the images are quite hard to work with. After this product, other models appeared, but did not show up to the expectations of users.
Fortunately, there is currently the GoPro Max that tries to reinvent the story by focusing on creativity, and by offering some very interesting features, including the creation of VR content.
GoPro Max: the basics
Handling the famous GoPro Max, we first noticed that it is 33% lighter and 20% smaller than its oldest, the GoPro Fusion. Unlike this one, it only requires one micro SD card, which is already a good point for it.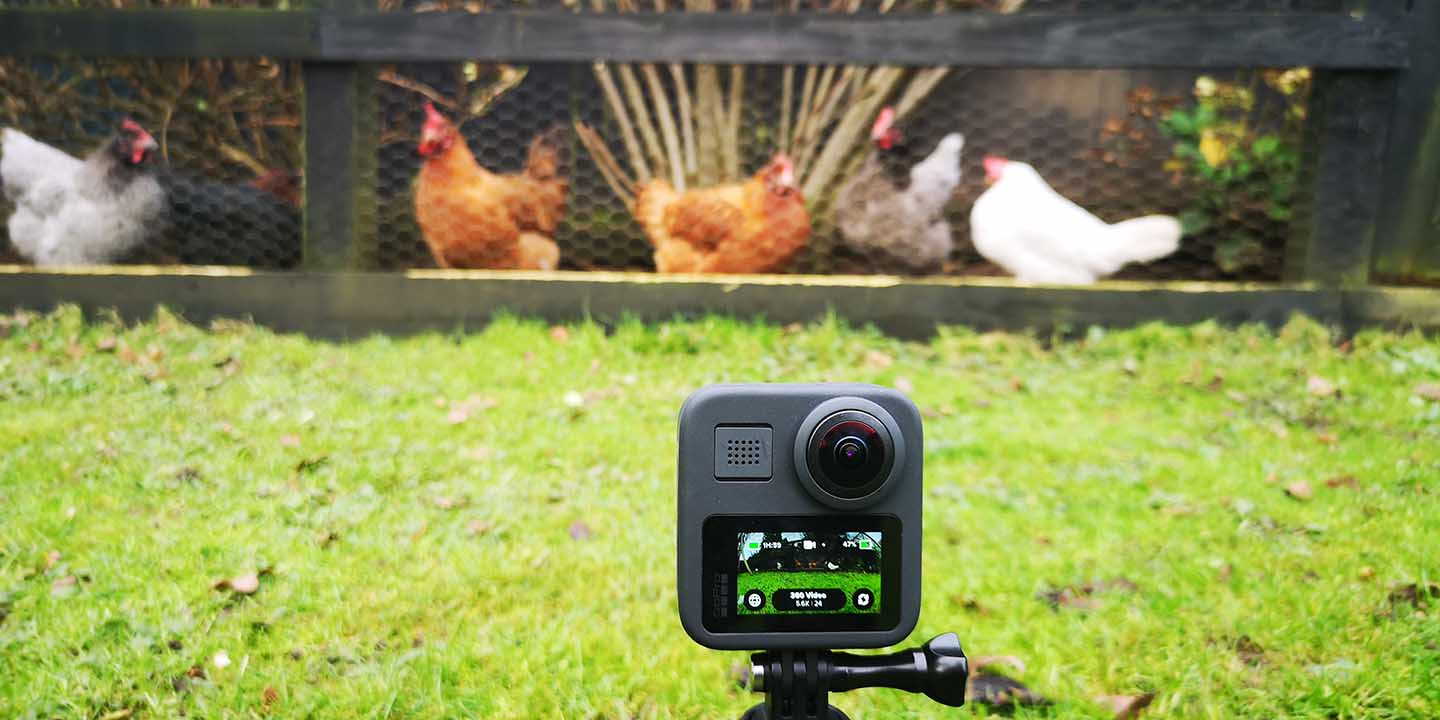 In addition, it is equipped with an integrated 1.7-inch 16:9 touch screen. Thanks to tel, you can then frame your photos and change the different settings much more easily. The only catch is that you can't scroll the world 360° with it.
Of course, the device is extended up to 5 meters. Capable of taking 16.5 megapixel panoramas, it also offers excellent stabilization, and supports live streaming. A possibility to export a 360 ° video on the Internet ?
Among the novelties that the GoPro Max brought, this one really caught our attention. So you can now export 360 ° video directly to the Internet from your 360 ° camera.
Indeed, some platforms, such as Facebook and YouTube, may support it. You can then view or edit your videos with your Smartphone, PC or even your VR headset.
It is also possible for you to do fun things with your images. You can, for example, display them in 1080p, play the director by tilting, zooming, etc.
How to export a 360° video with your GoPro Max ?
To export a 360° video on the Internet with the GoPro Max, there is nothing very difficult. Indeed, it is enough to follow a few steps. First of all, it is therefore necessary to shoot at 360° with the device.
Then you have to use the GoPro app on a phone to transfer the images. Now you need to define camera movements, angles and transitions based on keyframes.
It remains after that to export the video. It can be a clip in 1080p 16:9, in portrait mode or in square format to better adapt to Instagram.
How long will the export take ?
When exporting, it was noticed that it took a little time. This is especially felt when we process the key images.
Nevertheless, it is good to know that it is possible to perform the operation on Mac for more speed thanks to the GoPro Player app and additional codec options.
It can also be done on a Windows PC, except that it currently only has a GoPro exporter. It turns the 360 ° video into a flat video of 5376 x 2688 pixels. Nevertheless, it can be worked in Adobe Premiere using the Reframe plug-in provided by GoPro. Dazzling images at the key
Even if you can't get really spectacular results with this feature of GoPro Max, you can still make excellent images.
While some actions, such as riding a bike on the street, jogging on a hill, etc., may seem mundane when filmed with a standard action camera, this 360° camera can change everything.
She invites you to get creative by doing terrible things.
GoPro Max: like three GoPros in one ?
In addition to allowing VR content to be created through 360° shooting, the GoPro Max can also shoot only with its rear or front camera. So it can do it as a standard action camera.
That's why they say "it's like three GoPros in one".
And this is also the reason why this model is much more recommended than the Hero8 Black, even if in Hero mode, one is limited to 1080p60.
Other features in addition
If we recommend to prefer the GoPro Max to the Hero8 Black, it is because it also presents, in Hero mode, features that the latter does not have.
Above all, there is Max HyperSmooth, a significantly improved version of HyperSmooth 2.0 from Hero8 Black, and the TimeWarp function available in Hero and 360°modes.
There is also the possibility to enjoy a better stabilization thanks to Max SuperView. With this feature, you can say goodbye to images that move a little too much when you attach your camera to a snowboard stick, for example. GoPro Max: some extra assets
In addition to all these assets, the GoPro Max still has more than one trick in its bag. Indeed, it also benefits from a new PowerPano mode. It uses the two camera lenses to take a 270° panorama in an instant.
As seen above, this model is also extended up to 5 meters, half the depth of the Hero8 Black. However, this does not really matter, since the 360 ° camera is not ideal for filming underwater.
The brand is working on an underwater box resembling a globe, certainly, but it is not yet available at the moment. In addition, this 360 ° camera does not play replaceable lenses. It is therefore always necessary to be careful about the use under water.
GoPro Max: what about 360° mode ?
In 360° mode, the GoPro Max does its best to hide possible imperfections. Only, she still struggles to really get there. For best results, the brand recommends installing the camera at least 50 cm from the floor.
To do this, we can use the new tripod Max Grip + manufactured by GoPro, and offered at 59,99 euros. It can indeed extend up to 56 centimeters. Also marketed at 60 euros, the selfie-stick El Grande can also do the trick.
Extra-strong, the latter can extend up to about a meter. It is therefore ideal for the Max. It should be noted that if you attach the camera directly to a helmet or handlebars, the quality of the images will be reduced, but the result is still not that terrible.
GoPro Max: what about sound recording?
On the sound recording side, we also enjoyed GoPro Max's + 360° stereo audio. When shooting in 360° mode, the camera uses all its microphones to create a 3D soundscape.
Theoretically, if you watch a clip using a high-end VR headset, and if an object falls, for example, behind you in the video, you can actually hear it fall behind you.
This feature turns out to be really interesting, at least in theory. The only catch is that we will not be able to enjoy it with GoPro applications. GoPro Max: a 360° camera not to evaluate
For a price of 530 euros against 380 euros for the Hero8 Black, it must be said that it is worth buying the GoPro Max given its various assets. This 360° camera allows you to enjoy truly captivating features.
Although she still remains several kilometers from perfection because of her small weaknesses, she still kept her promise by wanting to get ahead of her elders.
For your different shots out of the water, to turn mundane things into mind-blowing things, or to create your VR content, this device is all you need.
Positive points:
Easy to handle and use

Image stabilization

Audio recording quality

Durable and compact box

Negative points

Image pain in low light

No 4K

Very recent Windows software

Design and ergonomics-8.5

Usage-8

Image quality-8

Value for money-8.5

8.3

Design and ergonomics: A compact and solid camera. Has everything it takes to be fixed on a pole or other.

Usage: Simple to use and customizable. The color touch screen is very convenient.

Image quality: Very good image quality. However, we regret the absence of 4K and the reduced performance at low light.

Value for money: One of the best 360° camera on the market.

User Note: Be the first !
Speaking about the next camera, it is VUZE and its peculiarities to keep moments.
VUZE: A PROFESSIONAL 360° CAMERA FOR LESS THAN 500€ THAT REALLY FILMS IN 3D The 360° and 3D cameras democratized for the general public do not really exist. As a rule, the equipment in question is intended for video professionals. However, the Vuze Camera 360° 3D seeks to reach the greatest number of people. For this, the device seeks to stand out by being one of the only cameras accessible to be able to offer formats in 3D.
" This is our biggest problem, transcribing in writing to the image quality of our camera, " confessed Oren Zvulun Vuze's Europe Sales Director. Yet this is what we will try to do in this article.
Brand: Vuze

Category: 360°Camera

Connection: Wi-Fi

Compatibility: IOS / Android / Windows 8.1 / Mac

Price: less than 500 €

Availability: Available

Tested with: Samsung Galaxy S4 mini / Asus S550C
Updated on 28/10/2020 to compare the Vuze to its successor, the Vuze+.
Launched at less than 1000 euros (as mentioned in the original test), the model is now available below the 500 euro mark.
A professional camera at less than 1000 euros: unheard of To begin with, the Vuze camera does not really have a competitor. At the proposed price of 995 euros, there is no 360° camera capable of competing with it. For comparison, for equivalent image quality, Nokia's OZO costs 60, 000 euros, GoPro's Omni costs 5, 400 euros and Facebook's Surround 360 at 30, 000 euros.
An easy-to-deploy mobile camera For professionals and athletes, the 360° camera deploys and stores very quickly. According to Oren Zvulun, the Vuze is designed for nomadic use and is intended to be the reference camera for journalists. Virtual reality and 360 ° videos are still a young technology. The Vuze camera thus meets all the requirements of documentaries and reports in 360°. A tool that is easy to handle, quick to use, with very good image quality.
The 3D superior to 2D If we must remember only one thing for this camera, it is that it films in 360° and 3D, unlike the majority of other cameras that film in 360° and 2D. It is currently the only camera less than 1000 euros to be able to shoot in 360° and 3D.Unlike a 2D camera, there is no "bubble effect", the contrasts are better and there is no deformation of the image depending on the proximity of the subject to the sensor. For example, with a classic 2D camera, people seem "giant" when they get closer to the viewer. Filming in 3D also allows better image capture on moving objects. Indeed, conventional 360° cameras that shoot in 2D have difficulty capturing moving images.
To check for yourself the recording quality of the Vuze, we advise you to download the videos directly from the official website, rather than viewing them on YouTube. Vuze facing his successor
The first Vuze was surely the easiest stereoscopic 3D camera to handle and the most affordable financially for the average consumer. With this experience, its manufacturer, HumanEye, launched in 2019 a second model called simply Vuze+. But what is this one worth ?
The main novelties for the new camera are: better waterproofing (IP65), 360-degree spatialized sound, improved lenses and the ability to do live streaming.
In fact, the Plus seems to be on paper the more interesting of the two. Especially since it keeps the strengths of its predecessor, namely an impeccable image quality, a disconcerting ease of use and an accessible price (around 1000 euros).
However, the old Vuze can currently be found at rates twice its introductory price. So, if you budget is really tight, the old model seems to be a great choice. Those who can afford the new should give preference to it.
As for how Google deals with 360 cameras, we can find out from the following updates.
GOOGLE HAS DISCOVERED THE SECRET OF 360 VIDEOS WITH 6 DOF STREAMING Google researchers have managed to develop a system for 360 videos with 6 DoF (six degrees of freedom) end-to-end, which can even be viewed in streaming. However, in the latter case it will be necessary to have a very high speed internet connection.
The current 360 videos allow you to discover places on the other side of the world, but still remain limited. Indeed, if one can look around, one cannot move one's head forward or backward. In fact, it gives a frozen side to the experience, which is therefore a little less immersive than expected.Google's new video system solves this problem by encompassing all stages of video design : capture, compression, and rendering.
To do this, the rig employed brings together 46 4K cameras synchronized and filming in 30 fps. A semi-transparent dome serves as both a camera attachment and a viewfinder for the cameraman.[bzkshopping keyword="htc vive" count= " 2 "template=" grid"]
Google's 360 6 DoF videos are still inaccessible
According to Google, the device costs 7000 dollars, a bite to shoot 360 videos with six degrees of freedom in space. To explain such high costs, it should be remembered that videos of this type are still a recent technology, therefore expensive. The result is a 220° field of light, 70 cm wide, which is the distance at which the head can rotate. At the moment, the resulting image has a fairly low resolution of 10 pixels/degree and would appear scrambled on all modern headsets. However, this will improve with future iterations. In addition, the video will be able to be viewed via an internet connection of 300 Mb / s. Such a level of compression is possible thanks to the use of a special AI whose technique is inspired by the streaming of video games.
However, do not expect to watch these kinds of videos on YouTube until a good time. That said, this discovery, including being able to do 6 DOF streaming, is a giant step for the virtual reality industry.
And the last news about this unique tool is the Instanews.
THE INSTA360 GO CAMERA IS OFFICIALLY AVAILABLE The Insta360 GO miniature camera from the manufacturer Insta360, is on sale since yesterday at the price of 230€.
A camera of less than 20 grams. That's what the Insta360 GO is, which by the way is not 360°. The camera is available for sale since yesterday on the website of its manufacturer Insta360. In addition to its featherweight, the camera has quite a lot to offer.
Insta 360 GO: not 360°, but very convenient
Obviously, the main argument of the Insta360 GO remains its very small size. The camera can be installed almost anywhere thanks to its magnetic back. Its stabilization system also prevents images from shaking. Images that can be captured in 2720 x 2720 pixels and 25 fps. The Insta360 GO can also shoot timelapse in 3040 x 3040 and 1600 x 900 for Slow Motion mode. It has a memory of 8GB.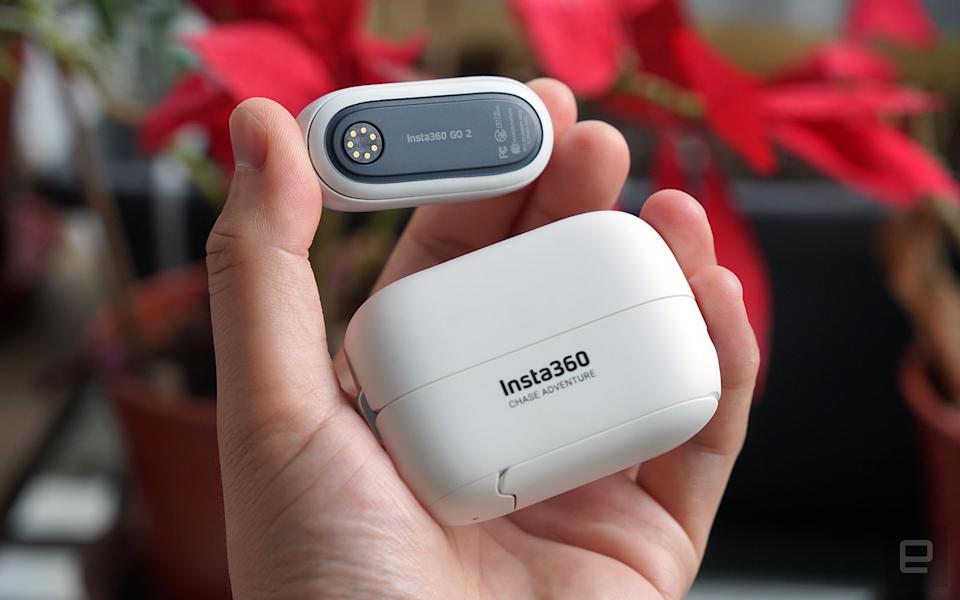 The camera shoots clips with a duration of 15 to 30 seconds, ideal for social networks. The autonomy of the device is 200 video clips. The small object is IPX4 standard. This means that it is resistant to splashing water, but cannot be submerged. Insta360 also hopes to make editing and sharing easier with its FlashCut auto-editing feature.
The Insta360 GO is already available on the website of its manufacturer Insta360. It will cost 230€ to get the camera. A magnetic pendant, charging accessories, swivel base and adhesive are provided with the product. It is also possible to burn an image or text on the camera for 10€ more. Delivery takes between 10 and 15 working days.