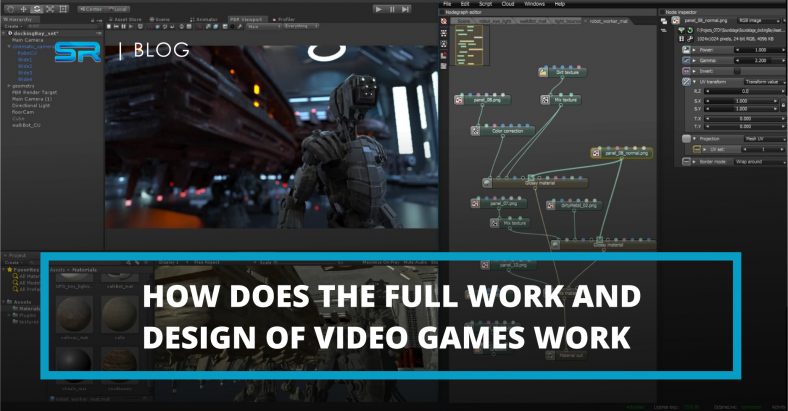 How does the full work and design of video games work?
Game design and development agency
Video games turn into more favorite entertainment at this moment. To the overall shock, they exceed the production of music and videos. There is nobody, who don't like playing games, that transfer yourself in the interesting universe. The advantage of them is enormous: the concentration of attention is stronger; the mental abilities are continually in progress. In this context, the game cannot exist with no creators: game development team/company including designers, developers, marketers, advertisers.
Game design handles the abstract (visionary) representation of the project. Game development covers the conceptual things to reality.
Game makers are the predictors, the fanatics of the full game formation. They are regularly overenthusiastic about interest and ideas. Their main goal is to notice and to foresee how the users will participate in the practice the experts have generated. Besides, the project architect should also combine the tech knowledge and aesthetic taste and the integrated realization of human psychology.
Features of game development
Architects are responsible for forming the particularized documents with the specifications, audio assets, stories, mechanical details, environments, roles. The tasks of the game development include
the visualization,
prototyping,
formation of levels, interfaces,
play practices. Then comes the production and capacity provision.
Their initial steps covers
the psychology,
the market investigation,
the realization of the producer's role in the manipulation of projects.
Initially, the prototype is produced with a precise platform, type, and structure.
The game is a complicated mechanism, that goes straight all stages of improvement such as
the creation of design documentation
the evaluation of the tech requirements
the determination of the deadlines
the delivery of the high-qualified work
the error fixing
the trial
the market analysis of the project
rendering
engineering
The video game development cost estimation depends on the features, applied for the project, time, the proficiency of the agency. The PC game formation varies in keeping with the peculiarities of the PC operating system and its limitations.
A list of popular game generation websites is the following
Coursera https://www.coursera.org
Game development tuts https://gamedevelopment.tutsplus.com/
Udemy https://www.udemy.com/courses/Development/Game-Development/
Gamedev https://www.gamedev.net/page/index.html
Best video game development programs, software, and apps
There is a particular chance to find out the effective platforms to form an individual program. The client can observe the article and find the appropriate tool and their advantages. Let's face the world of game making and make the own ideas into reality.
The ServReality team has extensive experience in developing video games. We can advise a number of games development applications:
• Unity
• Unreal Engine
• Construct 3
• GameMaker: Studio 2
• Cocos2D-x
Unity
The software applied for game generation Unity is the mixed base to form the personal product applying 2- and 3D improvement characteristics and work with the whole team of experts simultaneously. There is the detailed material on how to use Unity. The suggested bases are Firen OS, Android, and iOS. The price is free for private manipulation and enterprises (with request). Plus edition costs $25 per month, pro edition – $125.
The link: http://unity3d.com/unity
Unreal Engine
UE is a user-friendly game development structure. The changes and modifications can be done by no interfering the code or the setting up components. The pros are easy to handle the testing of games inside the project and the convenient interface. The bases are Xbox One, VR, Windows PC, HTML5. The price for small business is free. If the profit reaches $3000, experts give 5 % royalty.
The link: https://www.unrealengine.com/what-is-unreal-engine-4
Construct 3
HTML5 platform Construct 3 is built up for generating two-dimensional projects. It performs the tasks with no coding and for a short time. The product may be set up on diverse gadgets. The recommended platforms are Google Chrome, Firefox Marketplace, Android, iOS. The price is fixed: 160€.
The link: https://www.scirra.com/construct2
GameMaker: Studio 2
This is the 2d game programming functioning system, which function "drag&drop" and speech acquirement assists the client form the product quickly. The game arrangement and vars are integrated by applying the configuration characteristics in the app. The given platforms to apply are Mac, PlayStation4, HTML5, Amazon Fire, iOS, Android. The price depends on the chosen release. The free restricted form without change is provided with no qualities. The paid one varies $99-800.
The link: https://www.yoyogames.com/gamemaker
Cocos2d-x
This operating system has a lot of improvement tools. The main characteristic of the app is an opportunity to produce small-sized games. The complete info, the constant assistance are given. The bases for use are Linux, iOS, OS X pl., Android. The price is free.
The link: https://cocos2d-x.org