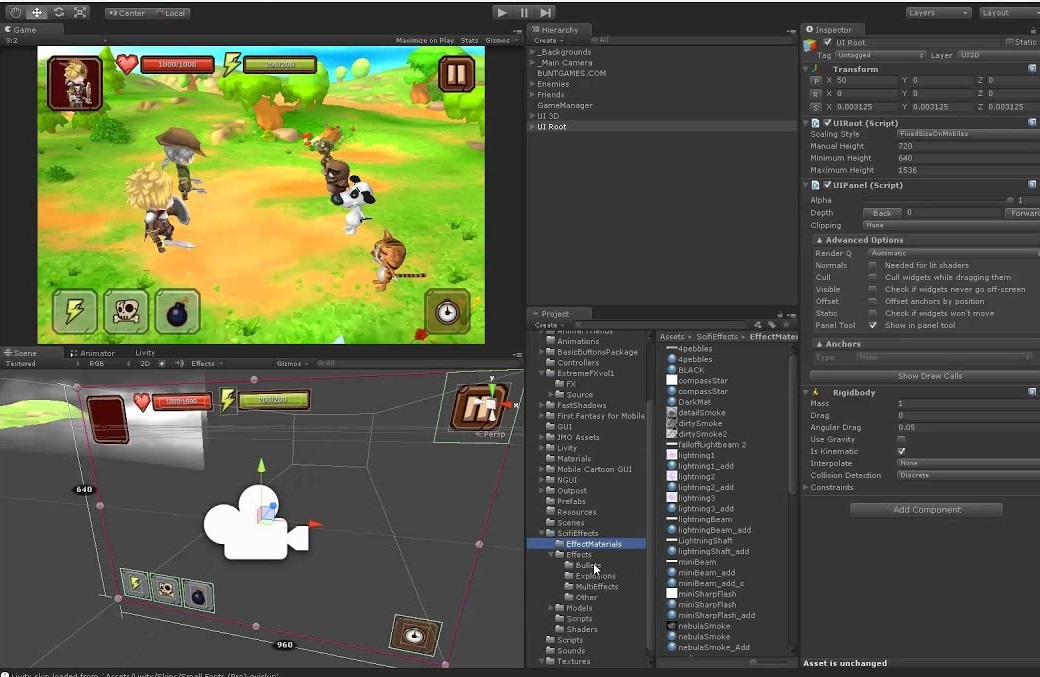 Can Unity make mobile games?
Quite common among developers is Unity, it is used as a powerful engine for game development, with which were developed projects such as Rust, Super Meat Boy and Pillars of Eternity. Currently, it is possible to download Unity without any payment and use it on any platform, which is very easy for beginners in development.
We can highlight the main advantages that the engine has Unity:
Ability to develop 3D games, with a drag-and-drop interface for non-technical users.
A powerful scripting system is available for advanced users.
Compatibility with many platforms allows you to create unique projects, and the same project can be exported for use in Windows, MacOS, iOS, Android or WebPlayer.
To develop a game with Unity, you'll need your own Unity software package, for which you'll need to install the target version. 3D modeling software and audio editing tools may also be required.
Unity's full suite of features and tools allows developers to quickly and easily create exclusive mobile games using the power of the popular engine. The Unity development platform is constantly scaling and evolving, making it possible to create games for a wide range of mobile devices. These can be small budget devices or high-end models with a high-resolution display.
Having a high-quality Unity asset pipeline facilitates a fast and easy way to create and use high-quality graphics, sounds, and animations. With these tools, you can ensure easy creation of polished and high-quality games.
Therefore, it is unequivocally possible to say that Unity makes mobile games while using the exclusive features of mobile devices, which as a result allows you to develop an exciting and engaging user experience. Thanks to this modern platform, developers can present their products to a wider audience than ever before, which in turn can foster creative skills and capabilities as well as the desire to develop innovative entertainment in the gaming industry for mobile devices.
For mobile game development, the Unity platform relies on its own proprietary engine to develop cutting-edge, high-end games quickly and easily. The Unity Platform is also used for cross-platform projects, which makes it very popular with developers from different levels, from beginners to professionals.
Thanks to Unity you can create modern, beautiful and fascinating games like Candy Crush, Temple Run and many others that are popular among users all over the world.
High quality ServReality game development company uses Unity to make mobile games. Our developers are ready to implement your project of any complexity using all the updated engine features and tools.