ARTIFICIAL INTELLIGENCE IN HEALTHCARE, PHARMACEUTICALS AND SPORTS
ARTIFICIAL INTELLIGENCE IN HEALTHCARE, PHARMACEUTICALS AND SPORTS
ARTIFICIAL INTELLIGENCE IN HEALTHCARE, PHARMACEUTICALS AND SPORTS
Pharmaceutical companies, hospitals, healthcare and sports organizations have been using artificial intelligence for several years already. Still, when a Canada-based healthcare company Deep Genomic announced its groundbreaking advances in studies of Wilson disease (a rare genetic condition), it attracted impressive media attention. The company was crowned with the title of the discoverer of the first AI-identified therapeutic candidates and received more than 40 million investments.
HOW CAN ARTIFICIAL INTELLIGENCE HELP HEALTHCARE, PHARMACEUTICALS AND SPORTS?
Medicine, pharmaceuticals, discoveries, and diagnostics require medical specialists to operate with large data volumes. Clinical histories, research of international communities, and multiple exceptions – it's easy to get confused. AI, especially combined with machine learning, is a perfect candidate for analyzing medical information and improving decision making in healthcare.
Algorithms, of course, are limited – they can't determine the complex cause of the disease and take an out-of-the-box look. Similarly, they can't go beyond a set goal, which, you still need a doctor in charge who'd give in-depth analytical requests. Still, AI computing power can help accomplish many things in healthcare – let's explore what has been done up to date.
RADIOLOGY
Doctors' competences in understanding scans are crucial to determining the right diagnosis. However, physicians can misread the image, miss an important detail and make a wrong conclusion. Stanford already proved that AI healthcare algorithms have better reading accuracy than human professionals do. So, doctors can use AI for double-checking, verifying their own intuitions.
ARTIFICIAL INTELLIGENCE AND PRECISE IMAGING
AI-based image analysis is used by scientists to assess the outcomes of plastic surgeries to determine the quality of the procedure. Healthcare-trained AI can model images of a patient with regards to potential changes after surgery – so both the patient and a doctor have a clear image of the result
Annals of Oncology published a study in 2018 that discussed the diagnosis of skin cancer, identified by an AI system. Turns out, it was more accurate than the one, performed by human dermatologists. Healthcare professionals were able to catch 86.6% of cancer cases where a machine identified 95% of patients correctly.
ARTIFICIAL INTELLIGENCE MAKES DIAGNOSIS
Superior data interpretation and analytical skills allow AI to provide superior diagnostic performance. Diabetes and heart diseases are difficult to diagnose for many specialists because there are too many factors at play. AI can analyze an almost infinite amount of variables in the shortest period of time, taking into account the entire patient history, family situations, the tiniest symptoms.
Jiang published a study where neural networks have been used to identify these diseases based on a profound analysis of patient information. AI can't provide a full replacement to human healthcare expertise, but its precision is getting increasingly better.
REMOTE HEALTHCARE
Artificial Intelligence can change the way healthcare communication and treatment are performed. A wearable healthcare device, equipped with smart algorithms can provide insights on how to improve patient's wellness and automatically alert physicians in case there's an abnormality. If there's an epidemic threat and going to the hospital isn't advised (like with COVID-19 patients), a wearable device can provide the information limiting the need for personal consults and preserve the health of a medical team.
DIGITAL RECORDS
EHR software (electronic health records) allows doctors to keep track of room and resource availability, treatment courses, medical histories, healthcare threats, and other aspects. When there is a large workload, monitoring this data manually is impossible. AI can organize medical information, alert doctors when there are important changes in the database, and add new information automatically.
Centerstone research institute discovered that if an electronic healthcare system has a prediction and modeling AI-based feature, the precision of such a system can get up to 72%. This can potentially save a lot of time for healthcare specialists and allow them to be better prepared for emergencies.
IMPROVE SPORTS PERFORMANCE
Artificial intelligence technology opens up great opportunities in sports. Not only does this technology help to provide real-time feedback and build personalized training programs for players, but also it improves the effectiveness of each exercise. If AI-powered software solutions applied properly, you can improve health and fitness by delivering information about the tear and strain experienced by players and keep the teams informed of injuries and weaknesses during games.
COMBINATION OF DRUGS
Medical professionals often face difficulties in administering treatment because they don't know what other medications a patient has been taking simultaneously, and how their mixture might affect the organism. AI healthcare systems can recognize these dangerous drug-to-drug interactions. A doctor can simply input the name of the drug and receive a full list of drugs with which it can or can't be combined.
PHARMACEUTICAL INVENTIONS
AI already proved its capacity to invent efficient drugs – obviously under human supervision ao far. Excientia and Sumitomo Dainippon Pharma, healthcare firms from Britain and Japan respectively, combined efforts to develop an OCD drug – and they succeeded. The system came up with DSP-1181, a molecule that's capable to help patients with obsessive-compulsive disorder. Interestingly, a process of intention took a year, whereas usually similar projects last at least 5 years.
LEADERS OF ARTIFICIAL INTELLIGENCE IN HEALTHCARE INVESTMENTS
Startups and big corporations actively cooperate with hospitals and scientific institutions to enable the development of practical AI-powered software solutions. Let's take a look at the biggest initiatives, backed up by technology leaders.
IBM
Currently, IBM released a range of AI-based healthcare projects. The most efficient ones are Watson Oncology that works in Cleveland Cleaning and Memorial Sloan Kettering Center. The company also partnered CVS Health to create an AI-assisted healthcare program of chronic disease treatment research, and Rensselaer Polytechnic Institute to help improve healthcare education.
MICROSOFT
The corporation cooperates with Oregon Health and Science University to develop cancer treatment options with AI-powered systems. Artificial Intelligence is capable of analyzing patients' scans, determining the stage of tumor development, and assisting in cell research.
GOOGLE
Google partnered with the UK National Health Service to help patients monitor their health risks via an accessible mobile app. Its healthcare projects also participate in enabling smart image analysis to detect cancer cells and tissues.
CONCLUSIONS: ARE YOU READY TO DEVELOP AI-POWERED SOLUTIONS WITH SERVREALITY?
Using AI to power healthcare and pharmaceuticals can help doctors to improve the accuracy of their diagnosis and treatment plans. It can also connect patients to physicians without requiring them to see the doctor personally. AI can make medicine more accessible to remote areas and developing countries. In addition to that, AI could help patients with various diseases to rehabilitate and improve their life-quality. Solutions like brain-computer interfaces are already being actively developed and studied in European and American institutes and hospitals. Ultimately, it's obvious that artificial intelligence in healthcare fills the gap between patients and doctors, allowing them to work together faster and in a more efficient way. Moreover, it connects pharmaceutical researchers and other health specialists, enabling the faster implementation of scientific innovations. We, at ServReality, can develop and implement sophisticated and actionable AI-fueled solutions that help you to grow your business and improve performance.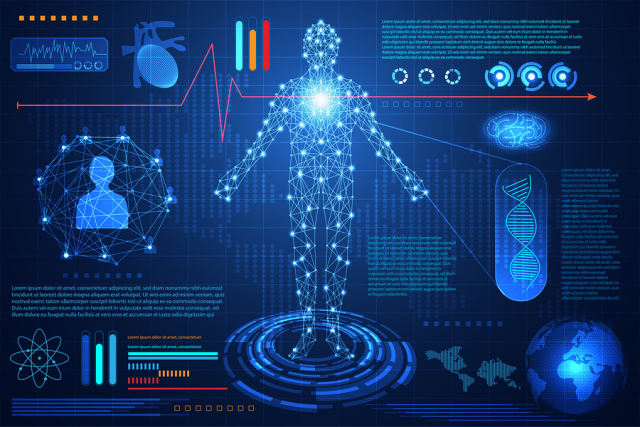 Talking about AI, healthcare is the very first industry that can benefit from this smart technology. Now, the AI market is full of promising newcomers willing to significantly improve healthcare. For instance, due to advanced predictive analytics AI and novel technologies it refers to have to offer, a smart communication service alerting about all possible risks, health problems and issues is not the future anymore.
These are some of the most widespread issues AI can help people with:
Perform robot-assisted surgeries, automation of major daily operations and much of the medical image processing.
Generate better, more in-depth knowledge about humans, including tissues, cells, and mechanisms they co-exist.
Gigantic time savings, capable to save millions of lives. For instance, AI allows performing a comprehensive tissue analysis in one day that a pathologist with classical methods would require doing in a year. Impressed, right?
So, AI today might not only augment human activity but erase healthcare boundaries, therefore, enabling care both anywhere and everywhere.
Should you need a truly prominent AI-powered application, ServReality is best company developing ai.
FAQ
How does AI work in Gambling?
➢AI allows better understand the particular game or sport and its metrics.
How does AI work in Entertainment Industry?
➢AI brings solid benefits to the entertainment software developers as well as it can carefully detect the key player information, for instance, the player type, the happiness level of the gamer, and etc.
Where can I read more about your AI development services?
➢You can read more about AI development
here
.
Where can I look at your cases?
➢You can look at our cases
here
.
WE WILL BE HAPPY TO HEAR YOUR THOUGHTS