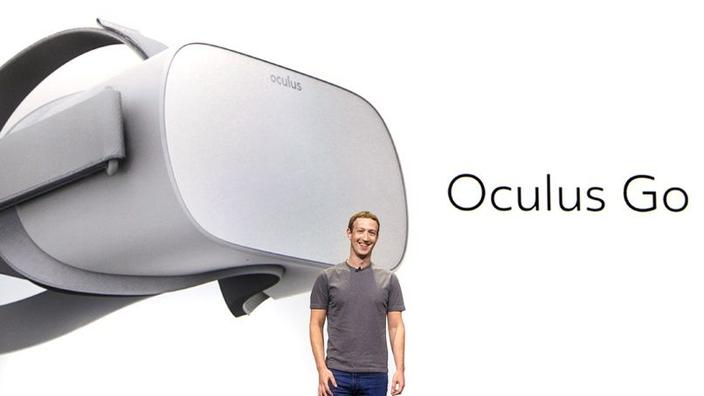 Facebook introduces $199 autonomous virtual reality headset
Dubbed Oculus Go, it is cheaper than more advanced devices, and must appeal to the general public. Facebook predicts that a billion people will use virtual reality soon.
Three years after its purchase of Oculus Rift, Facebook unveiled a new virtual reality headset on Wednesday. Dubbed Oculus Go, the latter is one of the cheapest on the market. It will be sold from 199 dollars. Its commercialization is planned from 2018. "We have one goal – to connect a billion people to virtual reality," Facebook CEO Mark Zuckerberg announced at Oculus' annual developer conference.
Openness to the general public
The Oculus Go has an original positioning in an already crowded market of headsets. On the one hand, several manufacturers sell advanced devices that plug into a computer or game console. The latter are usually expensive, such as the HTC Vive (sold from 699 euros), the Oculus Rift (339 euros) or the PS VR (399 euros). On the other hand, cheaper headsets are sold by companies like Samsung (in collaboration with Oculus) or Google. The latter have the peculiarity of working only with a smartphone, hence their low cost.
With this new device, Facebook has chosen an intermediate path. The Oculus Go doesn't need a computer to work. It is also not necessary to slip a smartphone into it. It is equipped with its own machine and a screen. It can be used autonomously, to watch content already offered on the Samsung Gear VR or via the mobile content platform offered by Oculus. So it is not supposed to compete with the most advanced devices. Facebook did not specify what the device's operating system would be. This headset is the product of Facebook's new strategy in virtual reality, more oriented towards the general public. Palmer Luckey, co-founder of Oculus, has left the social network. It is now Hugo Barra, formerly of Google and the Chinese Xiaomi, who manages the company's efforts in virtual reality.
After an initial enthusiasm, the virtual reality sector is struggling to take off. The most advanced headsets, which make it possible to enjoy an optimal experience, are too expensive for the general public. Facebook announced on Wednesday that it had lowered the price of the Oculus Rift, to 399 dollars. Sony and HTC have done the same for their own devices. The other issue is content. Virtual reality is trying to overtake the only video game market. On Wednesday, Facebook announced the launch of Oculus Venues, a platform for watching events like concerts or sports meetings in virtual reality. The company also unveiled Oculus for Business, an offer specifically dedicated to companies for the use of these headsets in training or online collaboration.
SERVICE: Discover the best of computing and get the latest software and video games on the Microsoft Store