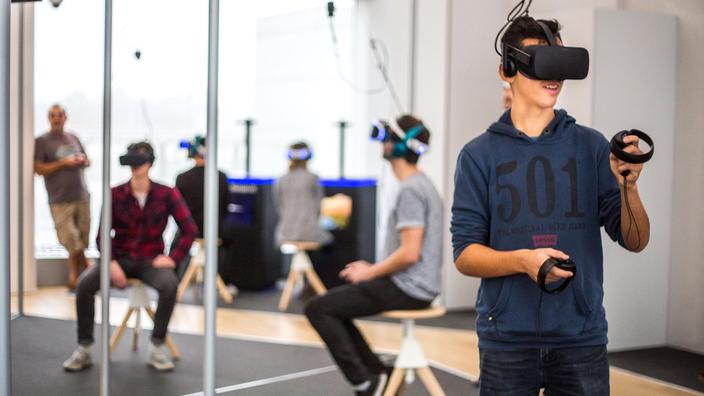 Virtual betting, visual betting
THE COUNTERPOINT OF NICOLAS D'ESTIENNE D'ORVES-Why wouldn't Paris be a science fiction city, like New York, Los Angeles or Tokyo? Come on, geeks: get to work!
It is always annoying that the monopoly of futuristic cities and dystopian agglomerations is so repetitive. New York, Los Angeles, possibly Tokyo: these are the cities that kidnap the visual imagination. As if the urban technological hell can only accommodate skyscrapers. Let's face it, the rare hexagonal cinematic attempts have always been floundering. But at a time when Dans la brume is on the screens and virtual reality is so gaillard in Paris, it is time for the French to take their courage with both hands.
Also read :The 6 places of virtual reality in Paris
Why wouldn't Paris be a science fiction city, too? At the dawn of the twentieth century, however, our capital was the city of all possibilities: see these photos of the Universal Exhibition, where we competed in architectural madness. It is necessary to find (only in pictures, of course!) these follies, this creativity, this surge. The Haussmann buildings, the alleys of the Marais, the Marshals ' HBMs and even La Défense are no less inspiring than the Chrysler Building, after all. The contrast would even be otherwise exhilarating, otherwise striking: imagine a Blade Runner leaving the streets of L. A. to invite himself to Belleville; imagine King Kong hanging on the top of the Eiffel Tower; imagine the populations hungry for green Sun crowded place de la République; imagine Paris under the ice, under the Seine. We are the country of Jules Verne, Maurice Renard, Rosny aîné, Pierre Boulle, firecracker! How is it that no one has so far tried to adapt Barjavel's admirable Ravages, which describes with genius intuition a Parisian apocalypse? When is a Planet of the Apes in its homeland, or an adaptation of the fascinating Forest of Iscambe, by Christian Charrière? With its two thousand years of history, Paris has too many ghosts not to summon them in a great visual (and virtual) sabbath. Come on, geeks: get to work!