The future arena from Nerf on Quest
NERF has twice given me an idea of games for children in America, in 1969 it introduced the "world's first indoor ball", which was sold by millions within the first year. This was followed by a series of popular toys, from NERFoop in 1972 to Power Drencher in 1989. Next, a weapon with darts was invented, which are fired from various guns that have different purposes. With his darts, NERF is heading to VR with the announcement of a worldwide multiplayer tournament called NERF Ultimate Championship
The NERF Ultimate Championship, announced today during the Upload VR Showcase as part of the IGN's Summer of Gaming event, is scheduled for 2022.
In this grand VR game, you and other players will come face to face in large-scale NERF team battles in the arena style, which promise a lot of action.
Developed by Secret Location together with additional funding from the Canada Media Fund and Ontario Creates, NERF Ultimate Championship looks to bring to life all the realism of the classic NERF battle in VR, in a huge arena with hundreds of viewers online and offline.
The NERF Ultimate Championship offers fast matches similar to Tron with a bright neon podsevka of all elements of the arena and participants. There will also be a lot of intense physical activity, as you will dodge darts and jump over walls for safety purposes during matches.
In an official press release, Catherine Rawson, vice president of content at Secret Location, said: "The NERF Ultimate Championship is an important milestone for us as the first collaboration with our new parent company Hasbro, "adding:" Everyone on the team is excited to move these epic NERF battles from our childhood into the exciting VR world and the growing audience of Oculus Quest when the game is released next year."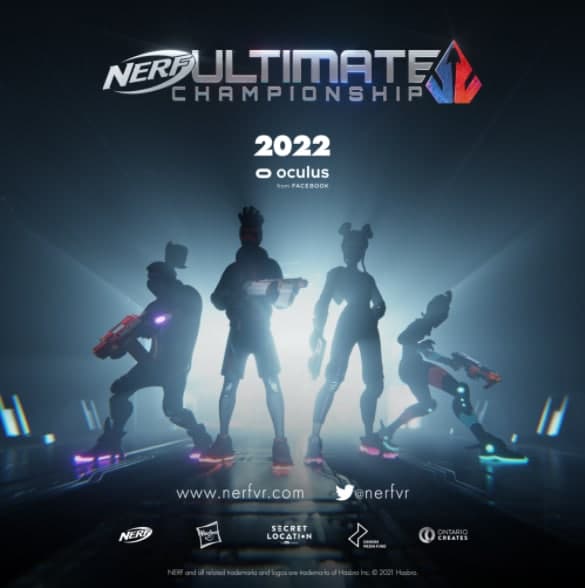 LOOKVR So, so, so, we have real players who really believed in the idea of free movement in the virtual reality arena. Such development will only help really cool companies to take a step towards getting a new audience and reach a new stage of development. I am more than sure that the game from Nerf will be very cool and the guys from Oculus will discover new chips for the development of a more perfect arena. We talked about broadcasts and championships on the big arena back in 2019 in an article in vc.ru with a prospect for 2-3 years. The future is already coming and our understanding of the world and interaction in real and virtual life will soon change a lot ! We are waiting!!!