Meta Reality Labs revenue grows by more than 30% in the first quarter of 2022
Yesterday the first event of this year was held to present financial results to investors and Reality Labs, the part of Meta's business dedicated to consumer electronic devices (Quest viewers, Ray-Ban Stories glasses, Portal video calls), increased its revenue more than a 30 % year-on-year in the first quarter of 2022. A good data for the company that is due to the continued streak of sales of the Quest 2 viewer.
On the other side of the coin we found that the costs of Reality Labs increased by 60%. For Dave Wehner, Meta's chief financial officer, the growth of investments in the company's technology division will end up making it profitable, since Quest 2 sales are still very successful and they show no signs of slowing down. The company still does not provide the number of units sold of either this viewer or any of its other devices.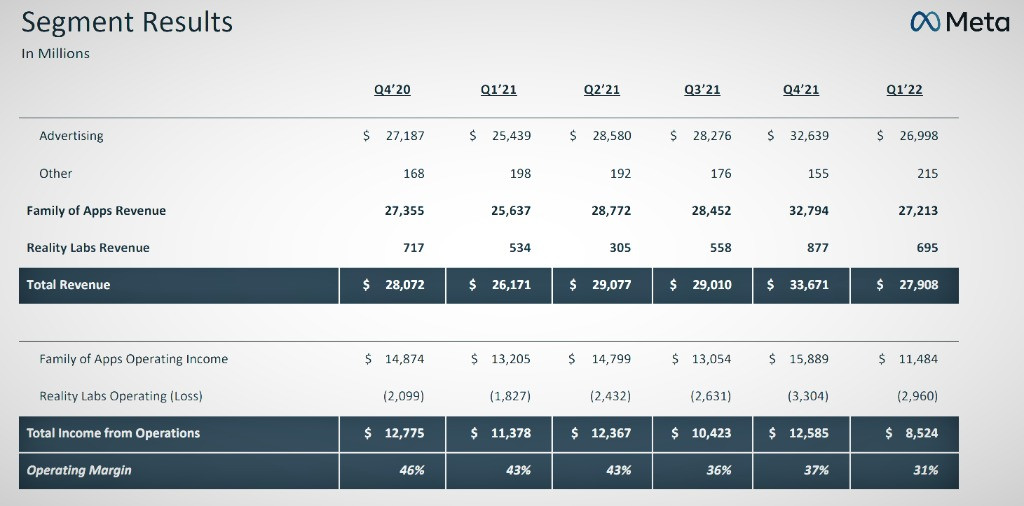 What we do have figures for is Reality Labs' revenues and expenses this first quarter: 695 million dollars in the positive part of the accounts, compared to revenues of 534 million in the same period of 2021. As for the costs, this quarter they have been 3,700 million dollars, while the previous year they amounted to 2,400 million. Therefore, Reality Labs has meant for Meta a few losses of $3 billion, almost double the 1,800 million of the Q1 2021 balance sheet.
Mark Zuckerberg warned investors again yesterday that his commitment to transform Facebook into Meta, the company that leads the construction of the metaverse, supposes assuming that for many years the investment necessary for this will entail losses, and repeated a date, the year 2030, as the moment when all his efforts begin to give positive financial results.
It will not be until XR technology products actually reach the market and it is significantly expanded when this contributes to revenue generation. As I have said in previous calls, I hope that this will occur at the end of this decade. We're laying the groundwork for what I hope will be a very exciting 2030s," said Mark Zuckerberg

The rest of the company's divisions presented better-than-expected data, with an increase in daily users on Facebook to 1.960 million, and that at the end of February the social network was banned in Russia. The Meta set presented some total revenue of nearly $28 billion, an amount higher than analysts expected and that made the company's shares rise yesterday, despite the fact that the multinational's growth is the slowest in a decade and its total operating profits have fallen by 21%.