HTC VIVE Pro headset without controllers will sell for $ 800
The best "widely available" VR headset will cost a lot of money.

Photo: techcrunch.com
HTC has released pricing information for its Vive Pro VR headset, which the company showed off at CES. And the price turned out to be unattractive. Earlier, the company clarified that sales of the virtual reality system will begin with a headset in the minimum configuration. As it turned out, the price was too high: the $ 799 price tag would make sense in 2016, but not now, when similar headsets are sold on the market at a lower price.
Headset pre-orders begin today, with the first headsets shipping to customers as early as April 5th. VIVE Pro ordered before June 3 will ship with a 6-month subscription to HTC's Viveport VR service.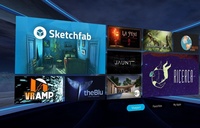 Photo: android-example.ru
A little positive: the company is cutting the price of the regular HTC Vive headset by another $ 100. It will now sell for $ 499. That's a much more competitive price point considering the Oculus Rift is only $ 399.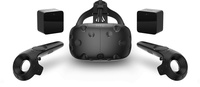 Photo: avtoprofi.ru
While the HTC Vive can't be as much as $ 200 better than the Oculus Rift, for people with free space in their homes to take full advantage of SteamVR tracking, the benefit is definitely worth $ 100.
HTC is clearly in a tough spot, so the company has to be pretty aggressive to stay competitive in the VR space. In fact, the opposite happens. It is likely that when the full suite of sensors and controllers is released, HTC will charge $ 999 for it, which may be profitable for corporate customers, but twice the price of a comparable Samsung Odyssey VR headset.
For example, the Samsung headset has two exactly the same OLED screens as the VIVE Pro, with a resolution of 1440×1600 pixels. VIVE Pro uses Valve's latest SteamVR tracking system, Samsung Odyssey uses Microsoft's wireless tracking.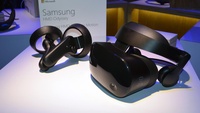 Photo: plurk.com
The VIVE Pro's build quality is likely to be higher than the competitor's. However, that alone doesn't cost a few hundred dollars, especially given the fact that the setup process for Windows Mixed Reality headsets is much easier than HTC's.
HTC considers itself a premium VR brand, and while on paper this headset seems to be the best among the competition, it doesn't seem to justify its high price tag when there are similar devices on the market that cost half the price.