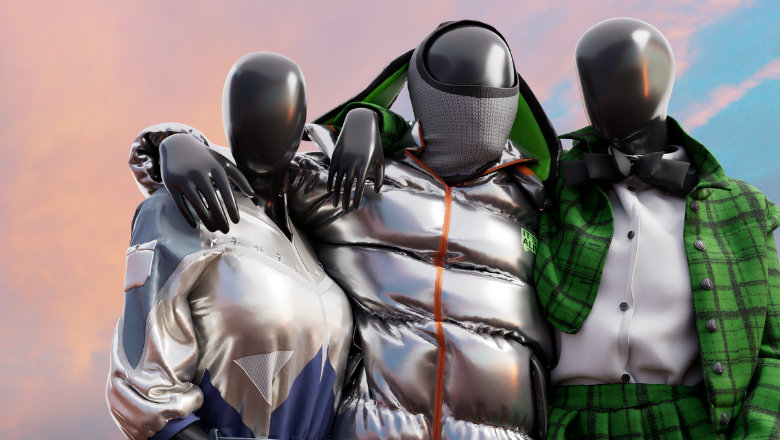 What is virtual clothing and why buy it?
More and more often we hear that brands have started releasing virtual collections of their clothes one after another. They create digital fitting rooms, design meta sneakers and dresses, and organize online virtual clothing shows.  And in 2021, the first DIGITAL FASHION WEEK was held in New York, where 3D artists from all over the world took part and presented their ideas.
What is Digital Clothing?
Virtual clothing is costumes, dresses, jeans, jackets, shoes created by designers in digital three–dimensional form in special programs for 3D modeling (Marvelous Designer, Clo3d, Substance Painter). Outwardly, such bows can look completely different: from an everyday image made of familiar fabrics to a space suit of an incomprehensible shape made of strange materials. Neon down jackets, acid boots, a stardust dress – the possibilities are limited only by the artist's imagination. In addition, virtual clothing is not static, like an ordinary picture, but animated, that is, it moves along with its owner.
Artist Axe by slamthngs
How and where to wear it?
All digital clothing can be divided into three areas:
3D modeling for subsequent production (process optimization, environmental care);
3D modeling for PR content (social networks, 3d catalog on the website, virtual promo display, etc.);
3D modeling for metaverses.
In the game. Today, the main market is metaverses. People care what their avatar looks like and what they are wearing. Decentraland players can already create and sell their own clothes. Designer Hiroto Kai created a virtual kimono, for which he set the price at $ 140, but the demand was so great that the digital kimono brought the designer $ 20,000 in just 3 weeks.
For several years of the existence of the metaverses, more than $400 million of real money has already been spent on digital clothing. Forecasts by the end of 2022 promise that the digital design investment market will grow to $2-3 billion.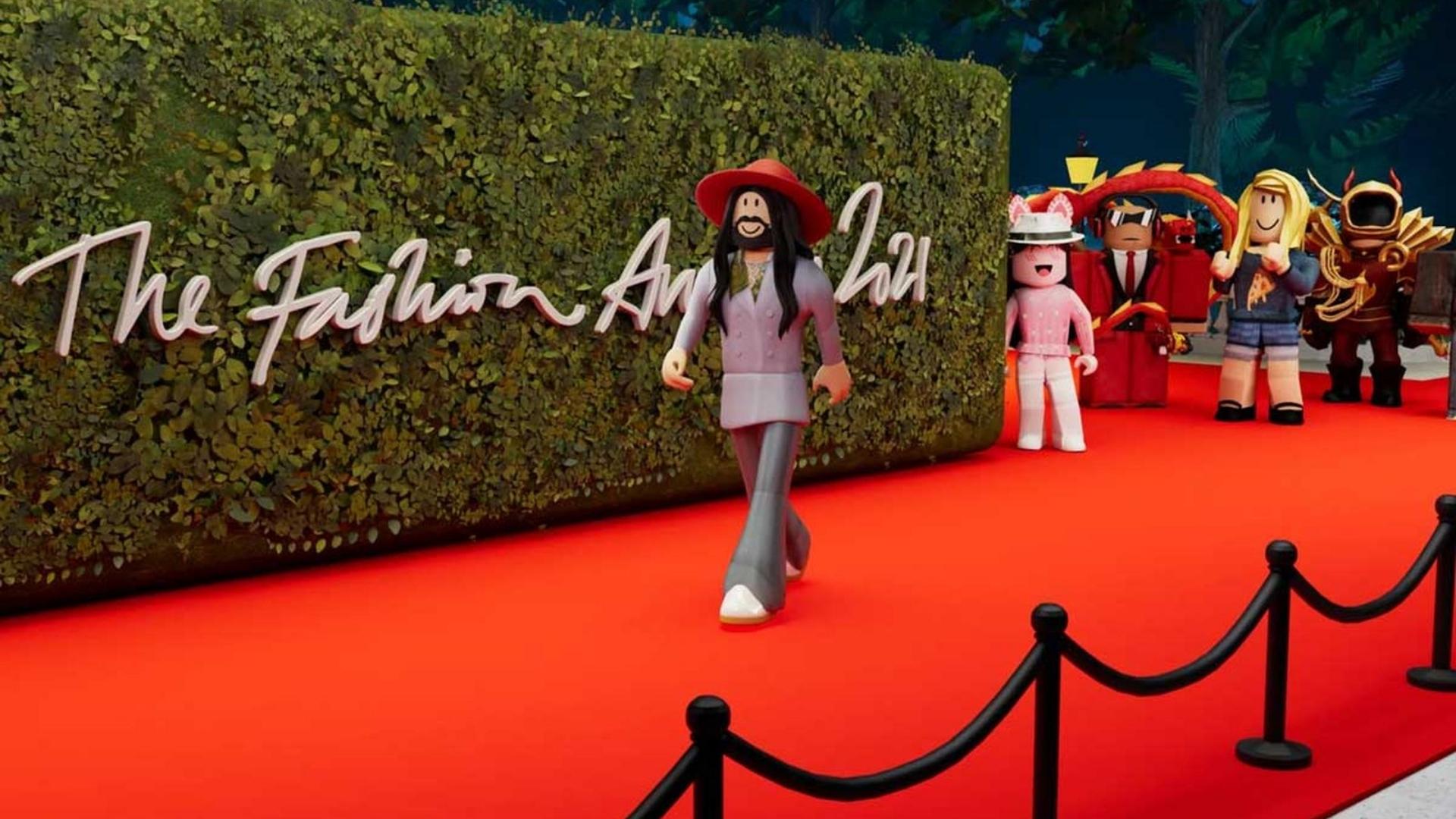 Clothing for metaverses. Source: highsnobiety
In social networks. Branded virtual clothes can be put on yourself, just by uploading a photo to a special program (each clothing brand has its own). Companies even launch telegram bots that allow you to "fit" digital clothes to photos. We try it on, take a cool photo, publish it on social networks, collect likes. Done! This is much cheaper than getting dressed in some store from the mass market.
Hang it in the NFT cabinet. Digital things can be collected, here we are no longer talking about fashion, but about investments. The most reliable way to secure your rights to a thing is to buy a non—interchangeable token, NFT. Tokenization of digital objects is convenient for both the buyer and the brand.
Why buy it?
First of all, in order to try on a thing online without buying its real version and without leaving home. Convenient, isn't it? This saves time, money, and it is immediately clear whether it suits you or not. And after that, you can make an order, and be sure that everything will sit perfectly.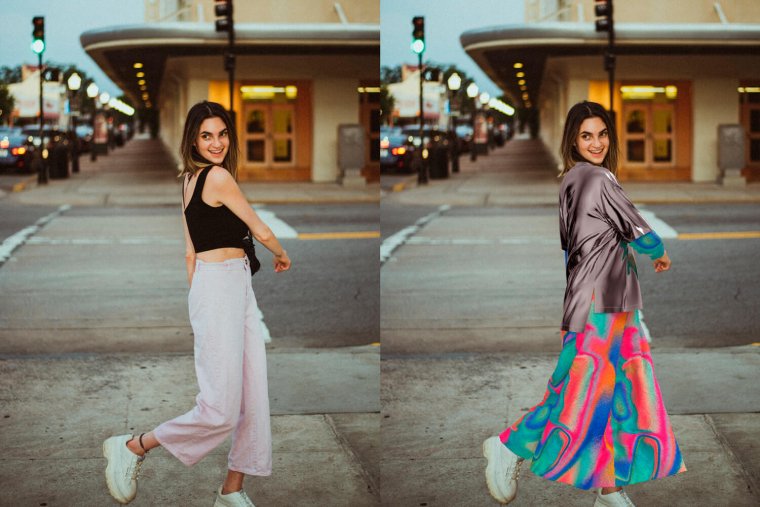 So you can try on a virtual dress
And secondly, to create content. According to the results of a survey by Barclays Bank (2018), one in ten buyers purchases items exclusively for content creation. That is, the thing is dressed only a few times, and then lies in the wardrobe. It also often happens that after the purchase you realize that the dress or the next sweatshirt does not suit you or you just don't like it anymore. Then it is either handed back to the store, or left to gather dust in the closet.
The economy of consumption is changing in society, concern for the environment, recycling and a reasonable approach to shopping are trending. More than 2 million tons of clothing and textile waste are thrown out in Russia every year, and brands burn several million tons of unsold clothing. The development of virtual bows is especially relevant against the background of the problem of excessive consumption.
Another obvious advantage in favor of digital fashion is that it allows you to realize the most unrealistic ideas. Shapes and textures that cannot be implemented in the real world are easily implemented in the virtual one. Such art projects deserve special attention.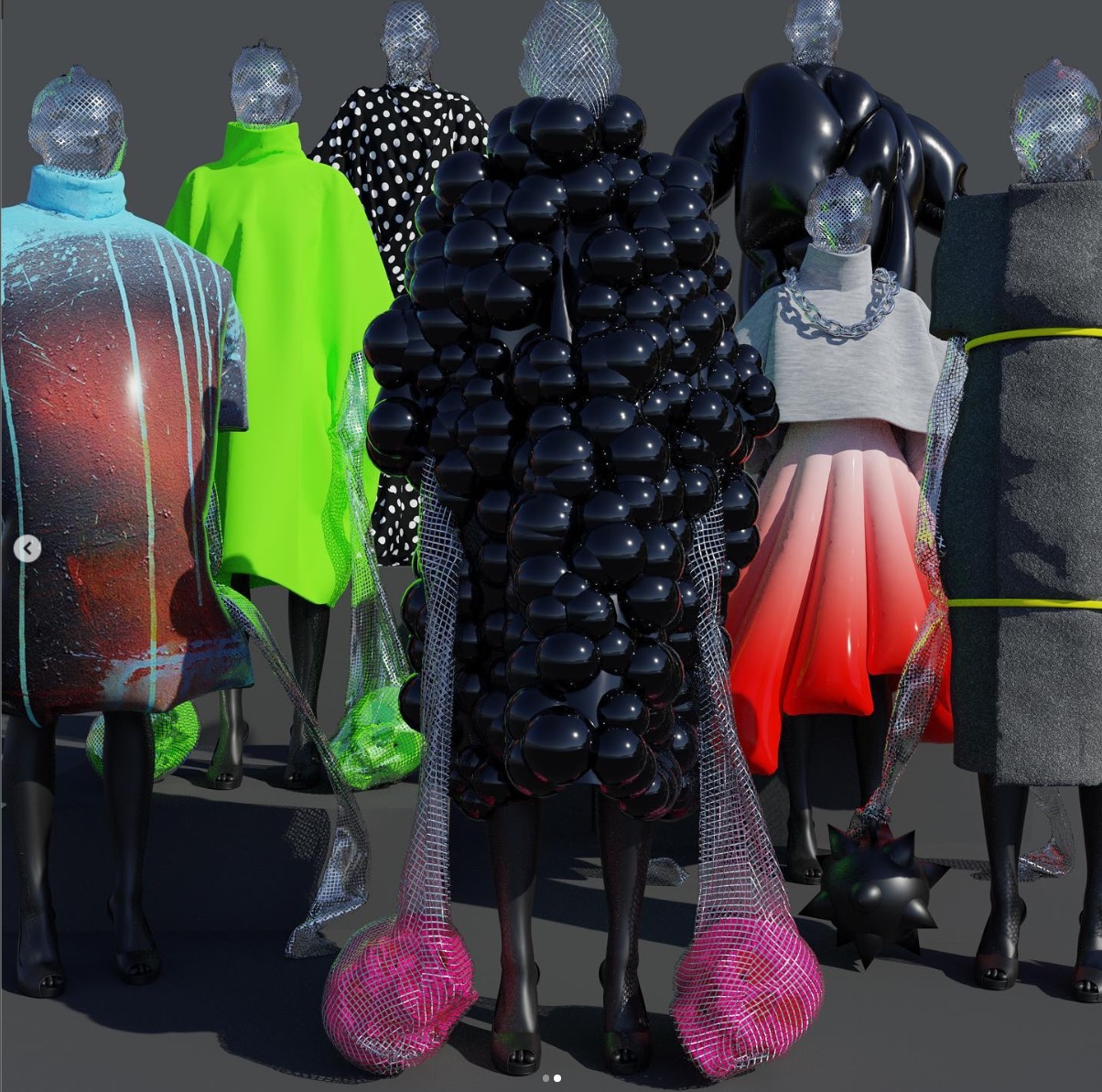 Artist @ to.mu.lab
Virtual avatars and fashion
When the production of digital clothing becomes a mass everyday phenomenon, by that time every person on the network will have their own avatar. He will also need to be dressed. Meta has already created the first avatars for social networks, there is also a small collection of outfits for them, but so far they cannot be embedded in their content. The future is not far off, where virtual people will change outfits every day, just like their real owners.
In the meantime, avatars are actively being introduced by clothing manufacturers into their content, commercials and the design of virtual showrooms. Digital avatars advertise real things as well.
Shudu Graham's Virtual Model
Virtual costume for a brand of dresses
Where to buy? And how much does digital clothing cost?
The most important question is where to buy and how much will it cost? Theoretically, the production of virtual clothing is much cheaper, since it does not require the energy and natural resources necessary to create fabric. And it takes much less time to create a digital bow than to sew it.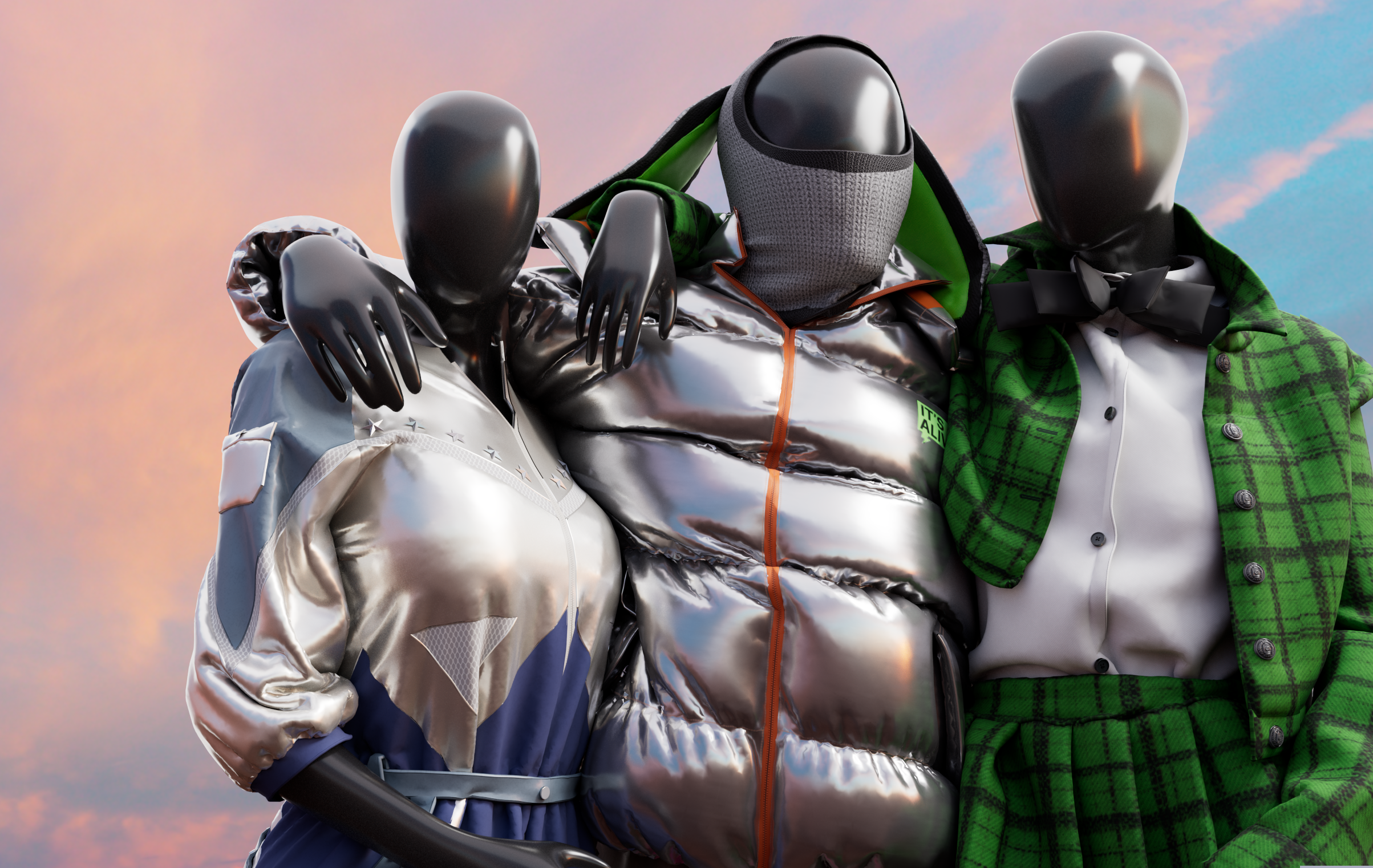 However , the price of onions consists of several parameters:
Design and quality of the model.
The complexity of the assembly, the programs used.
Scope of application.
In addition to the designer's work, the platform commission, taxes and other business expenses also affect the price. In the future, if the process of developing virtual clothing is automated, the cost will increase due to computing power and a license for the technology.
Now, in fact, the market is empty, there are few offers and a 3D designer can put any price on his creativity. Virtual clothes are bought mainly by bloggers and celebrities, for non-public people this is still an incomprehensible trend.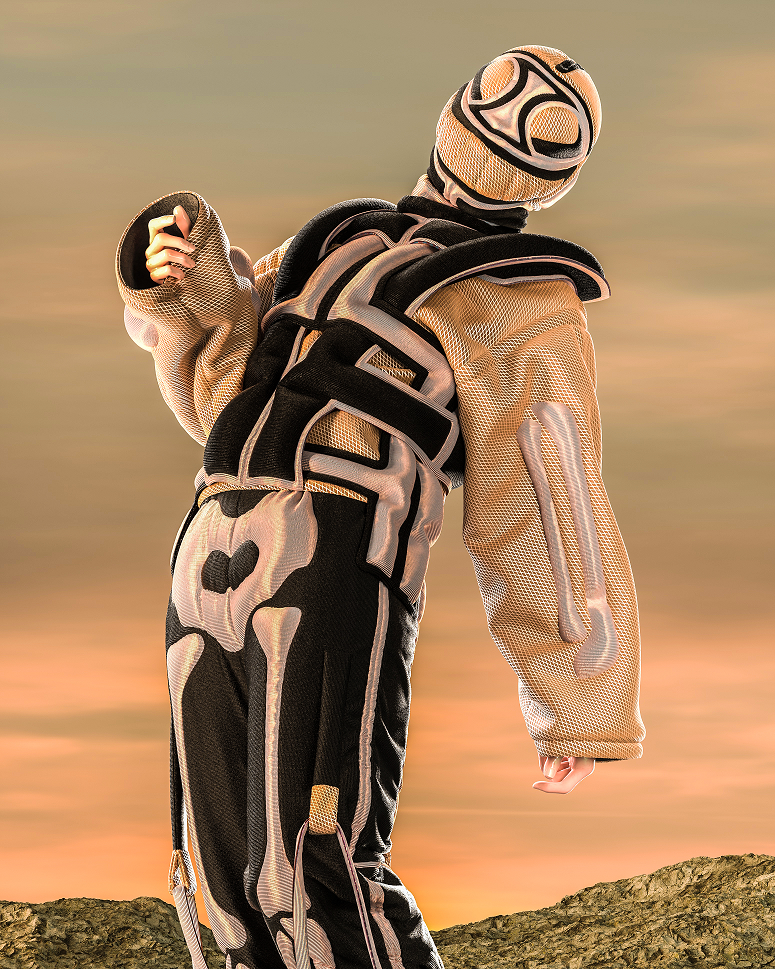 Clothing for metaverses is sold by auction, based on the level of demand, the price can rise to cosmic values. For example, the trendiest sneakers (3 pairs) were sold for $3.1 million. While the price depends only on the manual labor of the master, as in art.
The first platforms for the sale of digital clothing began to appear. On average, things on such a marketplace cost from 1000 to 5000 rubles. One of the most popular platforms for the acquisition of digital assets, including digital clothing, is OpenSea, where every day 20 thousand users make about 50 thousand transactions totaling more than $ 40 million.
With the growing popularity of virtual clothing in 5-10 years, we should expect a real revolution in the fashion industry. Augmented reality is preparing us for a full transition to online, where virtual fitting and buying digital clothing will reduce the tendency of excessive consumption, reduce the amount of recycled clothing, and increase the average buyer's check. The virtual image will soon become more important than the real one. Social networks and metaverses open up new opportunities for the boundless imagination of 3D artists, digital stylists and game industry developers.