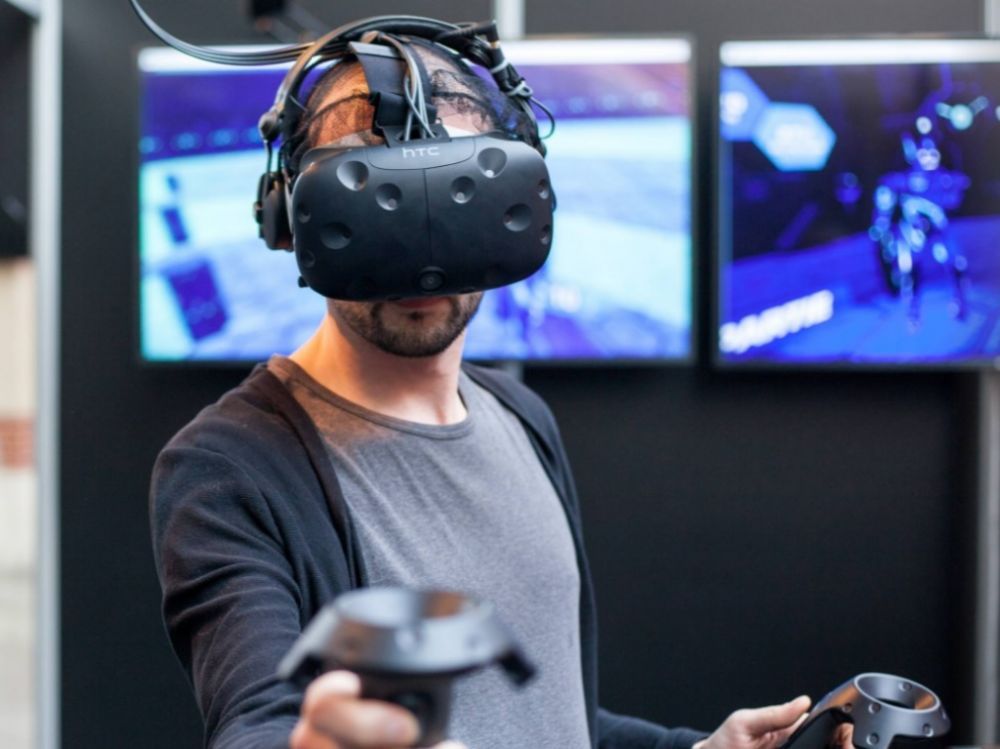 Virtuality, a show of strength of virtual reality in Paris
With 110 exhibitors and 16,000 visitors last year, Virtuality hopes to do at least as well for its second edition. It takes place, as in 2017, at the Centquatre, in Paris, from February 8 to 10, occupying two levels with its stands arranged in a rather dense way. "The first objective is to show that virtual reality is not a gadget and that a market is being formed, insists Olivier Godest, founder of the event. It is about valuing and showing French know-how."
In fact, Virtuality is primarily aimed at professionals with exhibitors positioned in the sectors of communication, marketing, events, heritage preservation or training. The first two days are reserved for professionals and a whole space is allocated to Microsoft and its partners developing applications for HoloLens mixed reality glasses (for industry, health).
Immersion in all its forms
The fact remains that Saturday 10 February the general public can come and test the now usual immersive experiences of space travel, flight in the sky and other fighting games in virtual reality. The MK2 network, which opened at the end of 2016 a virtual reality film space at the MK2 Bibliothèque in Paris, has its stand, the studio Novelab presents its interactive creations such as Notes On Blindness : Into Darkness or Unrest VR, and Arte360 its documentaries.
The show also planned to honor the world of video games with a Gaming Village organized as an arcade game room and plans an e-sports competition benefiting from the intervention live of commentators. From Thursday morning, by the way, on the booth of the Smart VR studio, two white-heated animators followed on the microphone the wanderings of participants armed with (fake) assault rifles for the game After Humanity : "There is close range… Frédéric takes the step on the opponent … We hope to see very close matches… a small 23-0 families… Denis and Frédéric evolve like real team-mates.. "You're not a fan ? Then we will not be able to advise you to fall back on our selection.
And that's not all : you liked 2D FPS ? You will enjoy them even more in virtual reality at # Virtuality2018 pic.twitter.com/iV5dpUXCgD


– Sarah Sermondadaz (@datisdaz) February 8, 2018
MyReVe, to fight her phobias
Developed by a psychiatrist from La Salpêtrière and a researcher in computer science from the CNRS, MyReVe is aimed at a public suffering from agoraphobia, claustrophobia, dizziness. Its effectiveness has been demonstrated by scientific publications. Several scenarios plunge the person into the oppressive corridors of the subway or in front of a bay window, or even a balcony, at the top of a skyscraper. "We have several virtual environments : office tower, elevator with panoramic or closed view, metro, but also parking," explains Gilles Ratureau, co-founder. Everything is done so that the experience is progressive and the confrontation with phobias remains manageable. The demo is available for an Oculus Rift headset but the two designers plan to adapt the experience for a smartphone to slide into a Samsung Gear.
With My Reve, virtual reality is the psychiatrist's ally to help patients overcome their phobias such as the fear of emptiness or claustrophobia (here, in the Paris metro) #Virtuality2018 pic.twitter.com/OaLSFFYNvU


– Sarah Sermondadaz (@datisdaz) February 8, 2018
KineQuantum plays physiotherapy exercises
In the physiotherapist, functional rehabilitation takes time. Especially since it is not always simple to correctly reproduce the exercises. To remedy this, KineQuantum offers patricians a virtual reality software, running on HTC Vive technology. "It's more fun for the patient to play a 3D brick breaker, with a board where they have to catch up with the balls, rather than turning their heads 30 times in a row," says Nathan Toledano, commercial director. The healthcare professional can then access the game statistics of his patient, in order to ensure that his proper execution. 65 exercises are now integrated: cervical problems, balance disorders, post-stroke recovery (including hemiplegia)… the spectrum of uses is wide. "We now want to integrate rehabilitation with walking, thanks to sensors to be positioned on the legs," says Natacha Vanryb, Marketing Director.
Journey to the heart of evolution
The National Museum of Natural History offers to live the experience normally available in its virtual reality cabinet, a dedicated room opened in December in the Grande galerie de l'évolution in Paris. A first in France, since it is the first museum to use virtual reality as part of a permanent exhibition. "We now want to present a new experience on the occasion of the temporary exhibition 'Marine Worlds', which will open from spring 2019, " says Cyril Roguet, director of the Museum's galleries department.
The scream, by Edvard Munch
Arte360, the immersive experiences division of Arte, presents a documentary still in its prototype state : an educational exploration of Edvard Munch's famous painting The Scream. This is the first chapter of a three-part experiment, each focused on an interpretation of the painting. The episode begins in a museum room, facing the painting. We learn, we see and we even experience the influence of the titanic eruption of an Indonesian volcano on this tormented work. And we leave a museum room on the ground covered with (virtual) ashes. Promising.
Timescope, or time travel
You knew the tourist longviews, where for a small piece, fabulous landscapes are available to you. Since 2015, the young grow Timescope proposes to apply this principle… but thanks to a virtual reality terminal. Something to immerse yourself at 360° for example in another era. "We have installed 3 for the city of Paris : at the Bastille, at the City Hall, but also on the roof of the Galeries Lafayette," explains Emmanuelle Lejeune, project manager. At the key, experiences of 2 to 3 minutes to give another dimension to the tourist sites. And all with robust hardware: "More than half of our bollards are installed outdoors," she adds.
With @ timescope you can travel back in time and explore a past scene in a given place. In Paris, 3 terminals are already installed ! # Virtuality2018 pic.twitter.com/aomlGmtLa1


– Sarah Sermondadaz (@datisdaz) February 8, 2018
With Far, nutrition begins on the supermarket shelves
Reading the fine print on packaging ingredient lists when shopping is not always easy. To facilitate the task of consumers with a specific diet (vegetarian, vegan, gluten-free, but also allergies or intolerances), Far (for Food & Augmented Reality) offers an application to scan the packaging directly through the smartphone camera. 100,000 references are already recognized. What to know in a few seconds if you can (or not) consume a product. "We can also translate the results from a foreign language into French," explains Elie Mietkiewicz, co-founder, who would like the app to be able to equip French tourists abroad soon.
Heritage, the alliance of virtual reality with the board game
The Virtuality fair also presents student projects, such as Heritage, developed by Gobelins students. The idea : add virtual reality to a classic Cluedo-style investigation game with a Google Cardboard headset. "Here, it is not a question of isolating the player in his bubble with this technology, but on the contrary of giving him clues that will not be shared with other players", specifies Natacha Lefèvre. What to make sure too… let other players not cheat, since they can not see what is intended for other players !
To mix traditional board game with virtual reality, these Goblins students have integrated a cardboard into their puzzle game @playHeritage pic.twitter.com/c9SZv1auD0


– Sarah Sermondadaz (@datisdaz) February 8, 2018