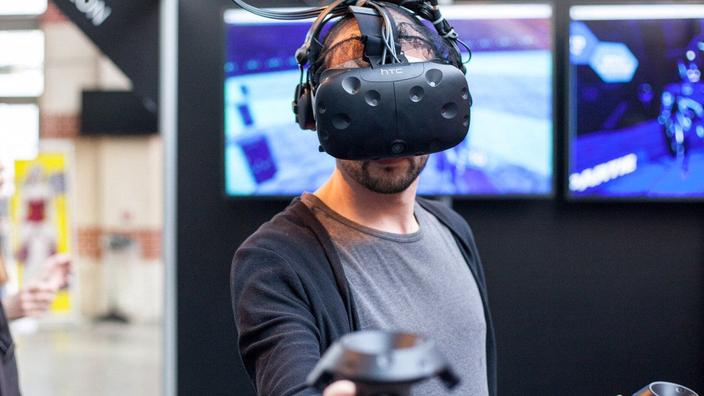 Virtual Reality Show 2018: the 5 highlights
Virtual reality enjoys a relatively recent popularity but is not new. It is honored from February 8 to 10 at the Virtuality exhibition of the Centquatre (Paris XIX).
"It is the set of techniques and systems that give man the feeling of entering synthetic universes created on the Internet". Thus the journalist and historian Jean Segura defined virtual reality (VR). A term that is increasingly used nowadays and is being used in many fields.
But be careful not to confuse VR with Augmented Reality (AR) and Mixed Reality (RM). AR uses the real world to display information (in 2D or 3D), with which the user will interact using headphones. The RM, the newest and least known technology of all, combines the characteristics of its two elders. As with augmented reality, the user of a mixed reality headset sees digital information superimposed on top of his environment.
Historical point
In 1962, Morton Heilig invented the Sensorama. Nowadays, he is considered the father of virtual reality. This first VR device will only be made for watching TV. In 1965, Ivan Sutherland developed the first interactive visualization helmets called "Incredible Helmet" or "Sword of Damocles".
Virtual reality today
Previously used only in professional and research fields, VR is now flooding the market with new technologies. Especially in video games and mobile telephony. This is precisely the purpose of the Virtuality 2018 exhibition, which is being held at the Centquatre (XIX), from 8 to 10 February. It consists of six villages for a hundred stalls.
Here are the five highlights of this highly anticipated second edition.
The highlights
• The most humane. UNICEF will be present at Virtuality 2018 to present its latest 306° productions and in particular the film SuivezMalika. This docu-fiction takes you to the small village of Gada in Niger, to spend a day with Malika, a 12-year-old girl. To find out what the access to drinking water is changing for children. UNICEF's message for Malika and for every child boils down to: "clean drinking water close to home!" Stand n°39
• The most technological. Onirix VR will present the first 360 ° swivel seat dedicated to virtual reality and integrating embedded electronics. This solution allows the user to freely enjoy cinematic virtual reality experiences of premium quality, in a cable-free environment. Booth n°80 – Village French start-up
• The most geeky. Lenovo is introducing a new kind of relationship to virtual reality thanks to the Lenovo Explorer Mixed Reality headset. Designed as a natural extension of a PC, it allows you to access the Microsoft Office suite, browse online or watch series from your virtual desktop, play VR games, explore and discover the world through holographic tours and enhance your video experience with 3D, 360 degree and 4K content, all very simply. Lenovo will also present this Saturday, February 10, its brand new augmented reality device Star Wars: Jedi Challenges TM. Stand n°49 – Village Windows Mixed Reality
• The most commercial. Composed of experts in virtual universes, VR-Things creates phygital experiences to increase the real by connecting individuals, products or places. VR-Things presents with its innovation, the connected holo-shop (virtual shop), a new sales experience for companies who want to boost their points of sale, broadcast holo-sales broadcasts around the world but also their 3D / VR content with the best interfaces and associated services. VR-Things has developed a first connected holo-shop applied to real estate sales in partnership with BNP Paribas, also present on Virtuality 2018. Booth n°36
• The most professional. During the three days of the fair, the public will be able to attend almost forty conferences of 20 to 25 minutes on various themes. The speakers, who are directors of communication, development and innovation, creative or project managers, will take turns speaking in the four-hundred-seat Accenture Room, to present their vision of the major challenges of virtual reality, augmented reality and mixed reality.
Virtuality 2018. The Centquatre-Paris. 5, Curial Street (XIX). From 8 to 10 February 2018, from 10am to 19pm. Thursday and Friday days reserved for professionals. Admission: 20€ (sat).