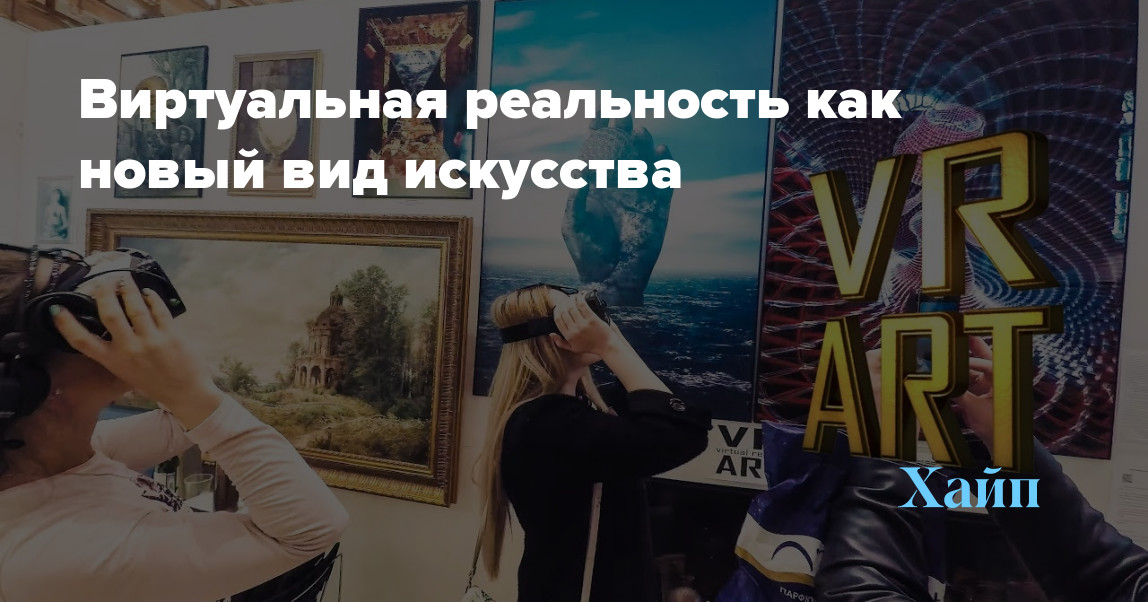 Virtual reality as a new art form

© YouTube
Art, to put it in general terms, is a creative artistic activity. Humanity has been engaged in art from the very beginning, from rock paintings to modern video games. In connection with the development of technology, new types of arts are emerging – virtual reality can just be attributed to such.
The technology is still young, the development prospects and its capabilities are not yet clear. There are no generally recognized VR masterpieces that the whole world would know about, such as Malevich's "Black Square", so only enthusiasts know about virtual art. Today I will introduce you to its examples, as well as make predictions about the future of this industry.
It is worth noting that nowadays VR art for the most part is the transfer of familiar artwork into virtual reality. For example, this is VR cinema or VR painting, i.e. partly viar serves only as a tool for other arts.
Although, in my opinion, the time is not far off when conceptually new methods of self-expression through VR will be invented, which will become a separate species that does not fall under the existing classifications.
Now let's go directly to examples of VR art.
VR painting
4 rooms of Stuart Campbell
Australian artist Stuart Campbell, known under the pseudonym Sutu, creates such unusual three-dimensional paintings. According to him, VR is an ideal environment that provides the viewer with a full immersion in the world of art.
"Night Cafe" by Van Gogh
American game developer Mac Cowley recreated the famous painting in 3D, adding additional elements to it. Moreover, the spectators here are not only passive observers, but also active participants in the action: the programmer added the ability to wander around the drawn cafe using controllers.
Blortasia
Artist Kevin Mack creates colorful abstract compositions in virtual reality that are unlike anything else. He himself calls his art "The Mysterious Mystery of The Mystery of The Mysterious" and it is difficult to disagree with such a well-aimed and difficult-to-translate definition.
VR Nirvana
Denis Semenov, an artist and director of virtual reality films, has been creating creations in the VR ART genre since 2014. These are paintings, art installations and VR animations: a list of all the artist's creations can be found on his official website.
Amarillys VR
This is the name of the project of an Armenian artist living in Denmark. Since 2014, she has been fascinated by VR and now her works have moved into a new reality. It is worth noting that she not only paints pictures, but also creates musical accompaniment for them on her own, and then she independently closes all this in a single digital shell.
Kalimpong VR
Shezad Daoud uses the city of Kalimpong, located in West Bengal, as a "base" for his work. All of his creations, including paintings, sculptures and videos, are somehow connected with this town.
VR is the perfect way to let someone go through these stories. This is a completely subjective experience. People can spend as much time as they want to explore certain areas, says Daud.
Rachel Rossin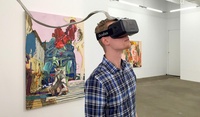 © AR / VR / MR Conference
An artist from New York is experimenting with virtual reality, creating abstract compositions that can be fully admired only with the help of VR headsets.
Wind in the woods
Another New York artist Jane Lafarge Hamill creates abstract paintings that can first be viewed in the original and then animated in VR.
A distinctive feature of VR painting is most often the three-dimensionality of the image, animation, as well as additional effects, for example, a musical row, which helps to even more strongly experience the beauty of a particular work of art.
Emissary in the squat of the gods
This is the name of "live simulation", one of those created by the artist Yang Cheng. He tries to create characters that will not look programmed, but truly alive. And he does it.
VR installations
Nicola Plant's creations
Artist, programmer and Ph.D. who studies "human movement". She creates extraordinary interactive installations to help her research. It looks unrealistically cool!
Transdimensional Serpent

© Dextra – dextra.art
John Rafman is a digital artist known for his unique installation, which includes sculpture, video and music.
VR cinema
Tunnel under the Atlantic
A pioneer in the use of VR in art, the French artist Maurice Benayoun created the work "Tunnel under the Atlantic" back in 1995. His work has a strange definition: a TV virtual installation. At one time, it became a significant event for VR art.
Raising a Ruckus
A short cartoon about two children and their dog, trapped in a fantastic fairytale world.
Real violence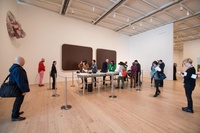 A line of people wishing to watch Real Violence. © MCN
Jordan Wolfson works in virtual reality, both on paintings and on videos. It is difficult to call his creation "Real Cruelty" a full-fledged cinematography, but it can not be attributed to painting either. Wearing a VR headset, the viewer observes a scene of violence, which Wolfson describes as follows:
And then you see how I attack a person who is 15 years older than me. I attack this person with such cruelty that it is not clear to you, as a spectator, if he will survive.
Meeting Rembrandt: Master of Reality
A film about the life and work of the famous artist, which has separate interactive elements. The viewer will be transported to the master's house in 1642 and will be able to interact with him.
Notes on Blindness
An extraordinary VR short film that shows viewers how blind people see our world.
Unlike many other exciting projects, ours is completely based on sound, – explains one of the filmmakers. – The only image is the outline of what you hear: the dog, the choir, the children playing in the park.
Miyubi
A comedy drama that tells the story of a family through the eyes of a toy robot. The film is 40 minutes long, which is quite a lot compared to other projects.
The Protectors: walk in the ranger's shoes
The VR film follows the challenging work of Congolese rangers, who risk their lives every day to save elephants from poachers.
Lincoln in the bardo
Wandering around the cemetery in the role of President Abraham Lincoln and chatting with ghosts – such an unusual plot and setting awaits the audience of this motion picture.
VR sculpture
Giovanni Nacpil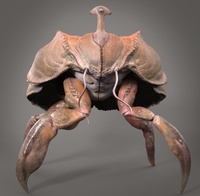 © Pinterest
Such alien monsters and fantasy creatures are sculpted in virtual reality by Giovanni Nacpil, an American designer, a big fan of VR. The characters he created have even appeared in films such as The Avengers and Star Wars.
Philip Hausmeir
Freelance lecturer at BTK University Berlin and CEO of Metaphysics VR began developing his VR sculptures in 2013.
VR exhibitions and galleries
Dreams of Dalí
The Salvador Dali Museum in the United States immerses visitors in the artist's paintings.
"Icons of Contemporary Art" in VR
At the beginning of 2017, an exhibition was held in Paris, where paintings by famous artists were presented in virtual reality format.
Acute Art
This is an online gallery where anyone can admire the creations of contemporary artists such as Olafur Eliasson, Marina Abramovich, Jeff Koons and others.
Metaforms
In the center of contemporary art "Mars", which is located in Moscow, in 2016 a unique exhibition "Metaforms" was held. It was a display of paintings, sculptures and installations by street artists, originally executed in a traditional form, and then duplicated in VR.
Conclusion
It is simply not possible to present in one article all the examples of art in virtual reality that exist today, there are too many of them. I tried to show the most outstanding of them.
Undoubtedly, virtual reality is a new step in the artistic activity of mankind: it combines already existing types of art, mixes in unusual proportions and creates previously unseen works at their junction.
It is highly likely that in the coming years we will see new extraordinary genres, for example, fully interactive VR films, in which the development of the plot will depend only on the viewer, who is also the main character.
Or some platforms that will allow not only to draw or sculpt sculptures for a common user, but also to create entire worlds to their liking and discretion (something like Minecraft in VR, but with advanced capabilities). In general, VR will pleasantly surprise all connoisseurs of contemporary art more than once.