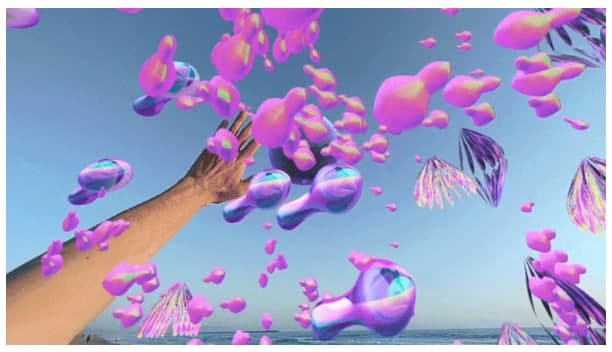 Snap Spectacles glasses for authors
Earlier, Snap Inc. held its third annual Snap Partner Summit, during which co-founders Evan Spiegel, Bobby Murphy and other team members presented several interesting Snapchat features.
However, the most exciting announcement of the event was the brand new Snap Spectacles glasses. These lightweight glasses, designed specifically for the authors of Snap, are able to create visual effects of augmented reality in real time. These smart glasses with AR technology support use the patented Snap Spatial Engine technologies, dual three-dimensional waveguide displays, a field of view of 26.3 degrees, two RGB cameras, four built-in microphones and two stereo speakers.
The device itself is controlled using a special touch panel installed directly on the glasses themselves, which allows users to launch various lenses from the carousel, as well as activate the scanning tool. Users can also use voice scanning to find and launch lenses directly from the headset. Everything you know and love about the app is present in these next-generation glasses, including 6DoF movement and hand, body and surface tracking.
Equipped with a Qualcomm Snapdragon XR1 processor, the new Spectacles glasses weigh only 134 grams and provide 30 minutes of work on a single charge; not bad for a specialized AR device with such a thin design. Since the glasses were created specifically for the authors of filters, the new glasses can be connected to Lens Studio wirelessly, which allows for smoother testing.
Unfortunately, the latest versions of Snapchat Spectacles will not be available for purchase by consumers. The development of these glasses will be directed for the authors for the time being, with subsequent distribution for ordinary users.
LOOKVR: We consider this a normal solution that will go into mass distribution for ordinary users.
A new wave of AR will soon cover the world and will be able to displace ordinary phones from everyday use. Devices with such a filling are a breakthrough for augmented reality glasses.
We think. that the next step will be glasses from Instagram and Tik Tok , which will be able to visualize all the new app features.
List of authors who can already get points :
Don Allen Stevenson III | XR Developer | Vibe Quest AR
Lauren Cason | Creative Technologist
Kat V. Harris | Technical Designer
Zach Lieberman | Artist | Poetic World
Matthew Hallberg / Augmented Reality Developer | SketchFlow
Clay Weishaar | The creator of augmented reality | Metascapes
Leighton McDonald | Creator of VR / AR / BlackSoul Gallery