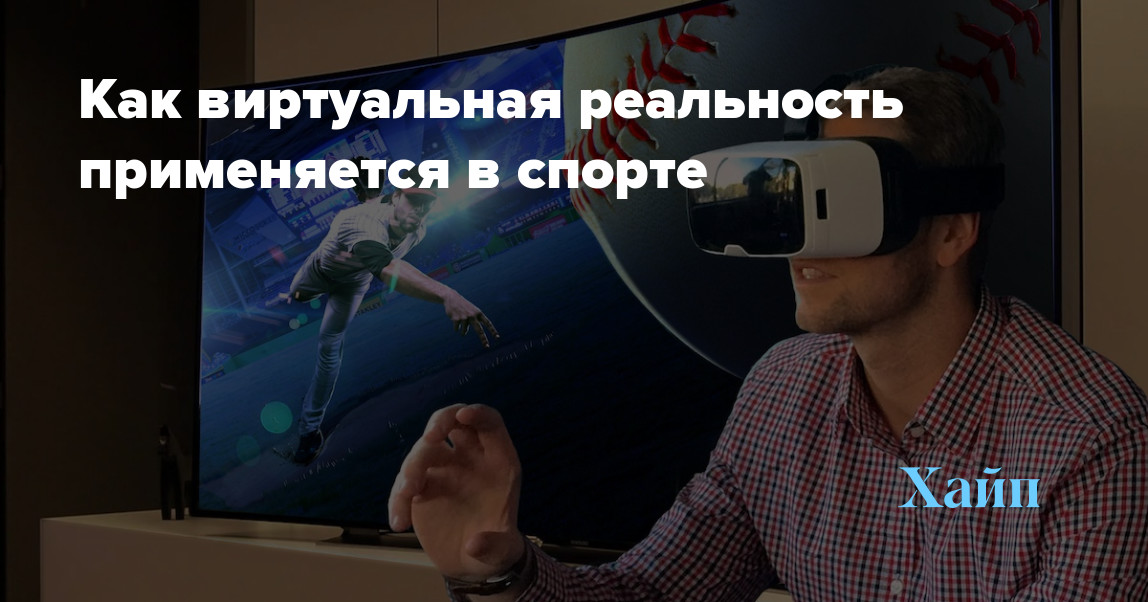 How virtual reality is used in sports
Virtual reality has affected many areas of modern human life, including education, marketing, the gaming industry and, of course, sports. The latter will be discussed in our today's article. How is VR changing the way athletes are trained, how effective is the technology compared to traditional training, and what will be the VR sport of the future? We will try to answer all these questions.
Photo: aivanet.com
VR workouts
Virtual reality for training military pilots was used back in the 1980s. And until the technology was able to reach the athletes, it took another 30 years. VR has been actively used in the UK, starting with the preparations for the 2012 Olympic Games in London.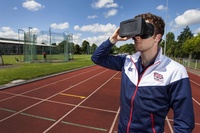 Photo: really.ru
And it was not without the intervention of military specialists (BAE Systems): it was they who created the necessary equipment and software, with the help of which it was possible to simulate the venues of the upcoming competitions and their detailed situation in virtual reality. That is, any athlete could train in advance and what is called "get used" to the place of the future "battle".
Initially, this equipment was intended for summer sports, but later it was modified for winter sports – bobsleigh, skeleton, alpine skiing, etc.
This project was called VR-Vantage: the British used it to prepare for the 2016 Olympic Games in Rio. According to Simon Timson, director of a UK sports agency, VR experiences will allow athletes to adapt to new conditions, relieve stress and perform better.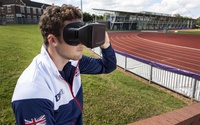 Photo: www.telegraph.co.uk
It is worth noting that the VR-Vantage project is suitable for both regular athletes and paralympic training. And how effective the UK team was can be seen in the screenshot below. Of course, to argue that all this effect from VR training is wrong, but they also made their contribution.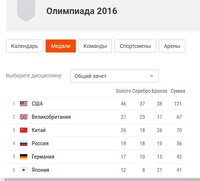 Source: olympteka.ru
The Americans, determined to keep up with their rivals, used their VR training program for skiers, developed by Strivr. The program, similar to the above-described VR-Vantage project, allows the athlete to ride on the future track many times in order for the Olympian to remember the route and its features.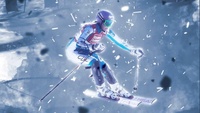 Photo: rossaprimavera.ru
In reality, before the start of the competition, athletes are offered to ride on the track no more than once. In VR, there are no such restrictions – if desired, a skier can learn any route by heart.
In fairness, it should be noted that the result of the Americans turned out to be very modest: 5th place in the medal standings in alpine skiing.
In addition, Americans are using virtual reality technology to train college football, baseball, and other sports teams. STRIVR and EON Sports are responsible for the creation of computer simulations. Among their clients are the largest universities in the United States.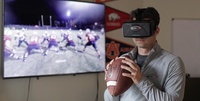 Photo: dev-iq.intel.com
According to representatives from STRIVR, they have over 50,000 different training scenarios.
Virtual reality allows athletes to hone their skills without the fear of unnecessary injury. Getting to know a new stadium where athletes have to play or learn the strategy of an opponent that the team has not yet had to face – all this became possible thanks to VR technology.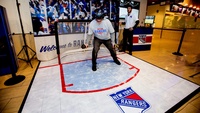 Photo: growpo.com
According to EON Sports CEO Brendan Reilly, the combination of sports and virtual reality is just beginning and is gradually gaining momentum.
However, in addition to the direct introduction of technology into the training process, it has many other uses in sports, which are discussed below.
Selection of talents
The Mi-Hiepa Scout project is a unique technology that allows you to analyze the statistical data of novice athletes and identify the most talented guys among them.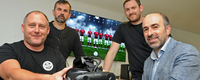 Photo: sugarpr.co.uk
According to the director of development of Mi-Hiepa Adam Dickinson, the developed system allows to objectively assess the abilities of a young athlete: strength, reaction, speed of decision-making, etc.
The project has already been tested on 640 athletes from different countries and has proven its effectiveness.
In addition, one of the areas of Mi-Hiepa Scout is trauma rehabilitation. Now, in order to regain his strength and skill, an athlete does not have to "go out on the field". It is possible to train carefully, reducing the risk to a minimum, using VR technology.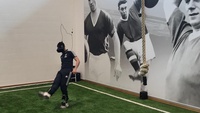 Photo: prolificnorth.co.uk
The Mi-Hiepa Scout system itself is a kit consisting of HTC Vive, a powerful PC and special equipment stuffed with sensors to track the athlete's movements.
Sports broadcasts
In this area, the potential of virtual reality is almost limitless. Spectators, putting on a headset, almost literally find themselves in the thick of things and watch the game "live". In addition, a huge advantage of the technology is the ability not only to watch the game, but also to display in front of your eyes detailed information about the match, the players at any time convenient for you.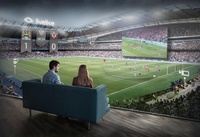 Photo: fortune.com
According to Will Dang, Head of Sports at Cisco, VR technology is opening new horizons and generating additional revenue for the sports industry. However, he adds that VR is unlikely to be able to completely replace the stadiums: the technology will only be a useful help for those who cannot attend a particular match live.
One of the first sports broadcasts in the new format began to develop in the NBA. So the first trial VR-show of the match between Golden State and Denver took place back in 2013. And in 2017, the technology was used in Formula 1: you can now follow the race from the paddock. Football, golf, hockey – VR broadcasts are gradually covering more and more sports.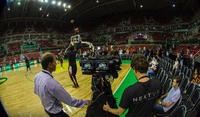 Photo: mediasat.info
VR sports for non-professionals
And, perhaps, the most important advantage of the technology: virtual reality makes sports more accessible and attractive for all categories of people. Many "sloths" avoid sports in every possible way and do not go to the gym for a number of psychological and physiological reasons. Virtual reality can turn sport into a game and diversify physical exercises. Here are some compelling examples.
Some may find it boring just to exercise on a treadmill. And the weather, insufficiently developed infrastructure and other reasons interfere with jogging on the street. Just put on a standalone VR headset and you are already running along the seashore, wading through the jungle, or even taking a walk in a fantasy world.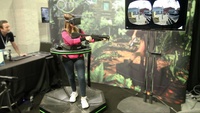 Photo: youtube.com
For these purposes, there is special equipment, for example, Virtux Omni – a running platform designed for both sports and VR games.
Or, for example, the Icaros simulator, which supports the human body in a position close to flying in a wingsuit. The trainer has various modes of operation and is able to turn a workout into an unforgettable VR experience. True exorbitant price makes both of the above devices inaccessible to most ordinary users. However, in the future the situation will change, simulators will become cheaper and anyone can buy them.
Another interesting project is BLACK BOX VR. It is a system consisting of a VR headset and a simulator synchronized with it (similar to the one used in gyms). And instead of controllers, there are sports setup knobs that are tracked in space by a VR headset.
Immersed in VR, the athlete finds himself in the middle of a large arena, where he will have to "pull the iron". Then birds appear in front of him, from which he must fight back with his hands. To protect themselves, the athlete throws glowing balls at these birds, while doing sports exercises. Each movement releases one ball.
For a change, the creators of BLACK BOX VR offered a competitive mode: break your own record or show better results in comparison with other trainees – all this is a very strong motivational factor that allows you to "squeeze" the maximum out of yourself at every workout.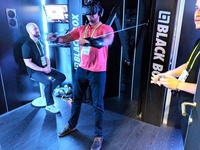 Photo: thisisinsider.com
BLACK BOX VR software is based on the work of AI, which monitors workouts, measures performance and allows you to select the optimal load for each individual.
In the future, the creators of the project promise to increase the functionality of their sports installation and add new interactive games. This will make workouts more interesting and vivid, as well as attract avid gamers to sports, allowing the latter to combine business with pleasure.
From all this, several conclusions can be drawn. Firstly, virtual reality affects absolutely all spheres of life and sports are no exception. Perhaps in 10 years we will not be able to imagine sports without VR. Training in virtual reality, sports broadcasts in 360 degrees, home VR simulators, even VR esports – all this is already the near future.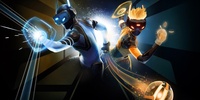 Photo: appsherald.com
Secondly, virtual reality will help turn training into an exciting and not annoying game that will attract those who were not interested in sports before. And this, in turn, will have a positive effect on the health of any nation: for example, such common problems as physical inactivity, obesity and cardiovascular diseases will be encountered less and less frequently.
Thirdly, the combination of virtual reality and sports will allow creating new "fantastic" sports, taking part in which almost any person can.