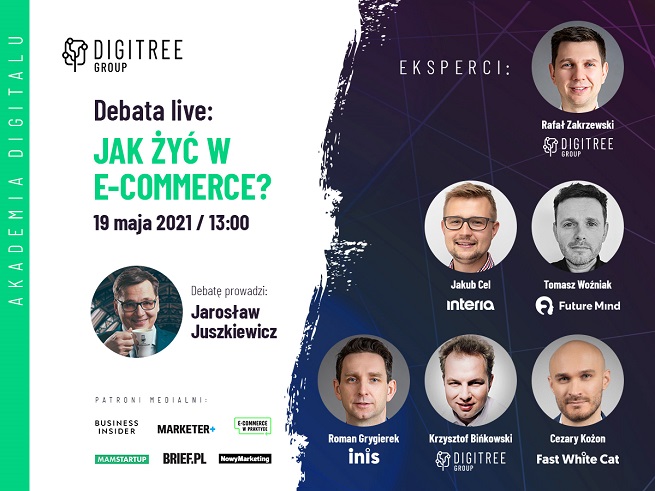 How to live in e-commerce? Digital Academy expert debate
For more than a year, digitalization has gained a lot of momentum, and Polish e-commerce has caught up with the last ten years and is just beginning its rally. But nothing is that simple. The segment of business customers is facing a huge change, mainly due to the growing professionalization of business related to e-commerce implementations or automation and digital transformation.
– The last year is a constant struggle for survival, but also the development of business in the future. It's a daily occurrence with a lot of information coming in from different directions. Hence the idea to create a place with comprehensive knowledge about digital and e-commerce. The idea of the digital academy is to confront proven knowledge and experience with Heard truths. We will advise, but even more willing to discourage what is ineffective for businesses. – comments Judyta mojżesz-zimonczyk, marketing director digitree group.
Tomasz Wozniak from Future Mind, Jakub Cel from Interia.pl and Rafał Zakrzewski, Roman Grygierek, Krzysztof Bińkowski and Cezary Kożon from Digitree Group, will have the opportunity to talk about:
* challenges and opportunities for e-commerce in the face of rapid market development,
* marketplace'ach, as an opportunity to develop sales and reach new buyers in foreign markets,
• mistakes made by e-commerce,
* changes in users ' purchasing behaviour and habits.
-Has the Covid-19 pandemic, which has been going on for more than a year, improved or worsened the situation on the e-commerce market in Poland? On the one hand, many companies have had to make drastic cost cuts and layoffs, and on the other hand, for thousands of often small family businesses, the digital transition has become the last resort. Decisions to transfer part or even all of the business to the network, which have been delayed for years, have been forced by the situation. How did the new reality in which we came to live affect e-commerce? I'll be sure to ask our experts about that. – comments Jarosław Juszkiewicz.
The debate will continue with a series of eight webinars on e-commerce, marketing automation, marketplace and digital360 implementations, based on a case study of well-known brands. The first series of the digital academy will culminate with an online lecture by Jacek walkiewicz, a psychologist and one of the most recognizable Polish speakers, who will talk about full power in times of change, that is, courage in taking on new challenges.
The digital academy is aimed at all those who, acting in business, want change. They are ready to respond to the challenges of dynamically changing reality and consumer needs. They are determined to match or overtake the competition. They know what they don't know and they want to know more.
We invite you to register for free at selected events or the entire digital academy.
Seats are limited!
Media patronage of the event included: Business Insider, Brief.pl, NowyMarketing.pl, MamStartup.pl, e-commerce in practice, Marketer+