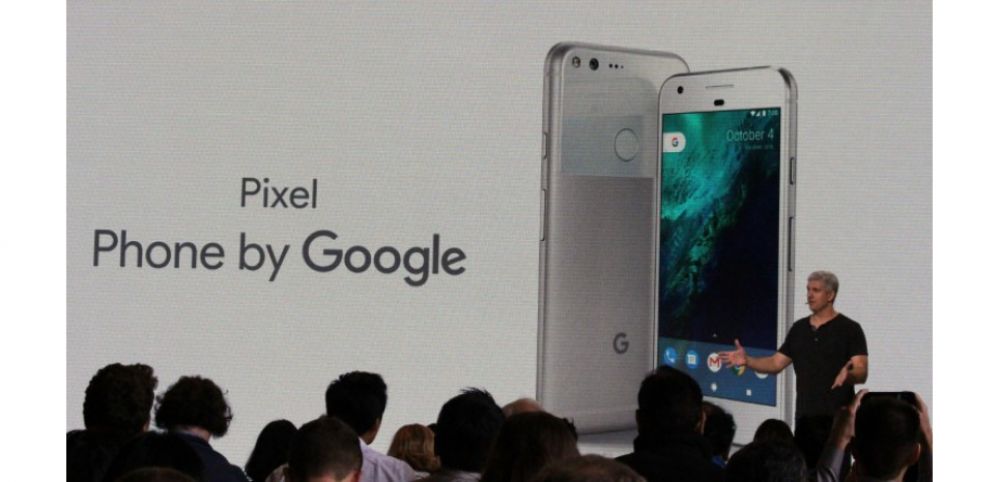 Google declares war on Apple with its Pixel smartphone
San Francisco (AFP) – The American internet giant Google on Tuesday made a declaration of war on Apple by unveiling a series of electronic devices, including a high-end smartphone that positions itself in head-on competition with the iPhone.
In the past, the Mountain View (California) group had already collaborated with several manufacturers for devices marketed under the "Nexus" brand, and it had briefly been the owner of Motorola, eventually sold to the Chinese Lenovo.
But the new smartphone, dubbed "Pixel", is the first to be entirely" made by Google", argues the group, which has integrated its latest innovations in artificial intelligence and the latest in its Android operating system, Nougat.
"We designed everything from industrial design to how the consumer can use it," said Rick Osterloh, the head of Google's smartphone arm, at a presentation in San Francisco.
"We are convinced that the next big innovation will take place at the intersection of devices and software, and around artificial intelligence," he said to justify the offensive in devices, where he says the group is "there for the long term".
Like the new iPhone 7, Pixel is announced with a base price of 649 dollars in the United States, where pre-orders opened Tuesday as well as in Australia, Canada, the United Kingdom and Germany.
And in case some observers still had doubts about its target, Google also launched several spades towards the apple brand during its presentation.
Like the iPhone 7, Pixel will be available in two sizes. But unlike Apple which has reserved some new features for its larger model, Google has promised that Pixel will have the same capabilities regardless of size.
This includes, among others, the Internet giant's new artificial intelligence virtual assistant (Google assistant), a camera billed as "the best smartphone camera anyone has ever made", unlimited online storage space, or ultra-fast charging to get up to 7 hours of battery in 15 minutes.
A presentation video also marked a halt at the time of mentioning that the device had a "jack" audio jack, traditionally used to plug in headphones but discontinued on the new iPhone.
And when Google listed everything that the buyer could easily recover on his old phone, he cited iMessages in addition to contacts or photos. That is, it really hopes to convince iPhone users to migrate to Pixel.
– Offensive in devices –
Like Apple, Google has used subcontractors (the group specifies that the Pixel is assembled in factories of HTC).
By no longer simply providing the operating system, but by now affixing its own brand on a phone, Google is however trying to become a real champion in this increasingly competitive market, but still dominated by Samsung and Apple.
"Google has clearly demonstrated today that it is finally serious with devices," says Jack Dawson at Jackdaw Research. "Pixel phones are clearly positioned as peers of the iPhone."
Patrick Moorhead, analyst at Moor Insights & amp; Strategy, however, thinks Google may struggle to gain significant market share. "Apart from the camera, the new Google Pixel differ little from Samsung phones or the 7th generation iPhone," he judges.
The Pixel smartphone will be compatible with the new Daydream virtual reality platform that Google announced earlier this year. He also unveiled Tuesday a virtual reality headset that fits directly on the phone, Daydream View, made largely of textile to make it more comfortable and lighter. It is announced for November in the same five countries as the phone (79 dollars in the United States).
In general, it is a real offensive in devices that Google, so far best known for its software, is engaging, also attacking home, a field where Amazon in particular has already placed its pawns.
For example, it will also integrate its Google Assistant with a connected device that aims to become the control center of the whole house, Google Home, which will be released in November and will be marketed for 129 dollars. It will compete directly with Amazon's Echo range of home assistants.
Google has finally presented an improved version of Chromecast, which allows you to watch streaming content on a TV, and unveiled a wifi router for the home.