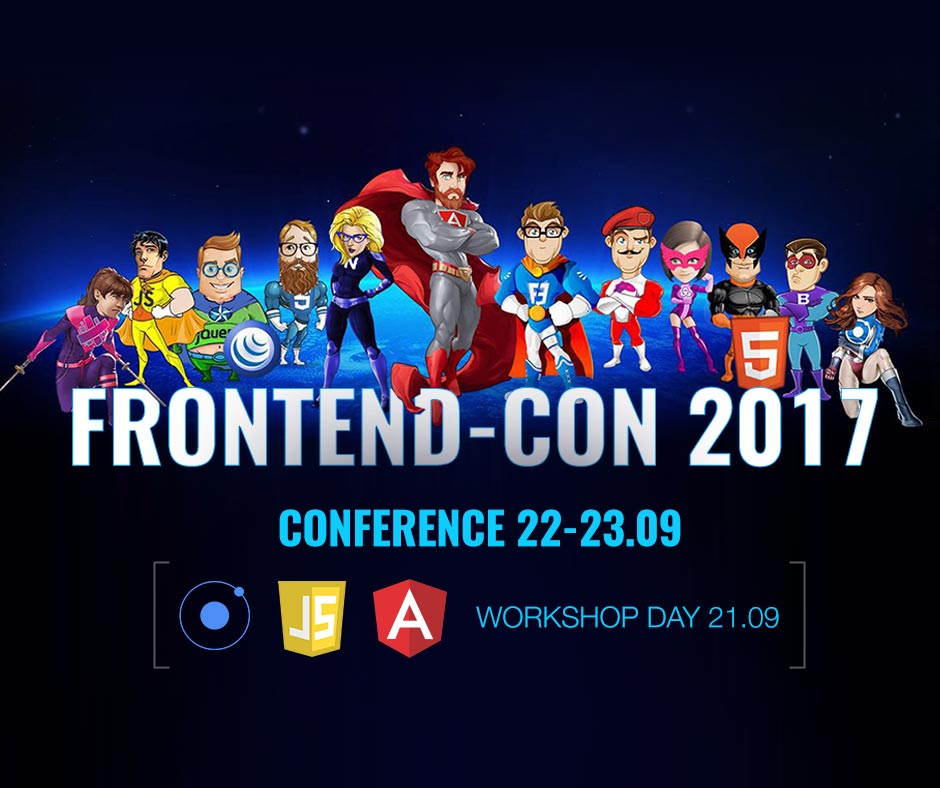 Front-line leaders at the conference at EXPO XXI Warsaw
Frontend leaders at the conference at Expo XXI warsawautumn 2017 will be dedicated to frontend leaders: on September 22 and 23, a conference dedicated to frontend technologies will be held at Expo XXI Warsaw. The idea of the event is to share ideas, gain knowledge, make friends and have fun. Two days, thirty speakers from around the world and topics that affect the environment – FRONTEND-Con 2017 is coming!
FrontEnd theme, a convention not only for developers
For FrontEnd developers, designers or people from the wider IT industry, this will be a great deal. Speakers will present the latest topics, news and knowledge from the areas of JavaScript, CSS, HTML5, Angular, Node.js, Ionic, Vue.js, RxJS, NativeScript, react, PWA or redux. The lectures will take place over two days, and every day the participants will take part in more than ten lectures, workshops and discussions. The full programme of the conference can be found at www.frontend-con.io.
An extraordinary convention dedicated to the environment
The organizer of the event is Emilia łuszkiewicz, who knows everything about creating great events. Implementing the idea for frontend-Con 2017, she wanted the conference to become not only a source of knowledge, but also entertainment and fun. It's the only way to bond with people in the industry. Therefore, in addition to lectures and workshops, there will be opportunities for integration and disguises. The creation of a software convention in conjunction with the well-known integration policy of IT companies has become one of the guiding ideas. On the front of the main event page you will find silhouettes of super-heroes, referred to as "frontend heroes". This is the best foretaste of fun that will accompany the event. What's all this for? The organizer emphasizes that this is an excuse to establish contacts and conversations.
Speakers FRONTEND-CON 2017
At one of the largest conferences dedicated to FrontEnd developers in Europe will come a real cream. These are people who do this on a daily basis and work for the front-line community. More than thirty speakers from all over the world will appear in Warsaw.
The opening session will be led by Lea Verou, an expert in the W3C CSS Working Group and author of many acclaimed publications. It is also interesting to see a lecture by a teenage American Samantha Rhodes, who will ignite the audience with her postulate "to want to be able to". All speakers are authorities in their field, work for the largest companies in the IT industry, are responsible for high-tech projects and, most importantly, want to inspire, motivate and share their knowledge.
FRONTEND-CON 2017-Time, Place, tickets
The conference will be held on September 22-23, 2017 in the EXPO XXI hall, 12-14 prądzyńskiego street in Warsaw. On page www.frontend-con.io you can buy tickets from 710 to 865 PLN net.
Bulldogjob is a media patron FRONTEND-CON 2017 🙂 for this reason we have discounts for you: write an email asking for a discount address here, and you will definitely get something:).
See you 22-23. 09 !!!!
For more information, please contact the organiser:
Emilia Łuszkiewicz
Tel: (+48) 608 348 444
Email: emilia@frontend-connect.io