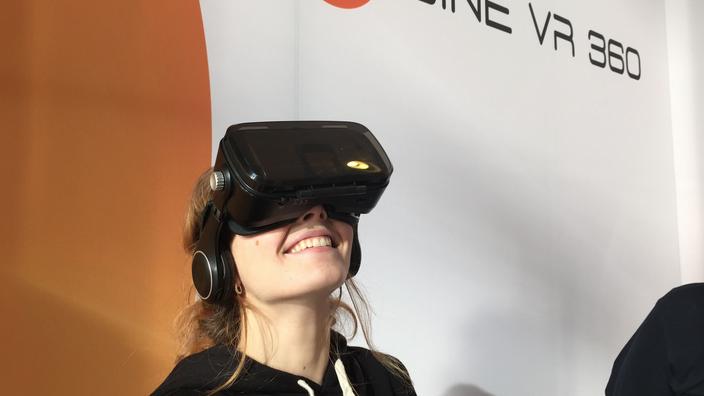 Five key places to test virtual reality
VIDEO –This winter, virtual reality is sweeping France in one fell swoop. With a helmet over his eyes, another over his ears, the viewer dabbles in the middle of whales, jumps into a painting by Dali, is attacked by zombies or explores Antarctica alongside the filmmaker Luc Jacquet. The point in five places to escape.
1. La Géode, Paris, 19th century.
We start by booking our session on the digitick website. Count 9 euros for an hour. In groups of nine, accompanied by several trainers, the spectator follows an educational ludo course where interactivity is progressive. We set foot on the ice in Antarctica among baby Emperor Penguins. We learn to fly over Paris invaded by nature in 2050. Then we walk in the Rockies accompanied by a particularly naughty robot dog. You can also think of yourself as a star dancer on the stage of an opera or learn to shoot bows from a castle. The atmosphere is relaxed and very friendly. The contents are benevolent. The kids will love it. Ideal for an outing with family or friends.
2. The Last Bar Before The End Of The World, Paris I.
This bar near the Théâtre du Châtelet is one of the headquarters of Parisian geeks and has been hosting virtual reality experiences at regular intervals for the past two years. This is one of the places where manufacturers like to test their novelties. On December 7th, Chewbacca and Darth Vader fans will be in love: that day, the bar will program Star Wars VR content launched by Disney a week before the release on the big screen of the Rogue One spin-off.
Read alsoLet the force be with virtual reality
3. MK2 Library, Paris, XIII.
On December 9, the Karmitz brothers open a virtual reality room called MK2 VR in their multiplex in Eastern Paris.
4. Cinema Diversion at the Forum des Images, Paris, Ier.
Installed on the ground floor of the Forum des Halles, this new 100% virtual cinema brand will open its doors on January 11, 2017.
5. Eidolon in Lyon / Villeurbanne
The VR center named Eidolon (pronounced Eye-do-lone) will be inaugurated in the leisure center Exalto Parc in Villeurbanne, on Friday, December 16, 2016. The multiplayer mode will allow four users at the same time to explore distant areas or build something together. At the beginning of 2017, The Flying Experience workshop will simulate a free flight. Guaranteed effects with technology that simulates air and water pressure.
And also in France:
Perpignan (Pyrénées Orientales): Ciné Méga Castillet (Ciné Movida group)
Cholet (Maine-et-Loire): the Ciné-Movida cinema
Saint-Lô (Channel): CinéMoViking (ciné-Movida group)
Clermont-Ferrand (Puy-de-Dôme): Cinéma CGR opening of the VR center in March
Beziers : Théâtre du Minotaure, opening on December 10