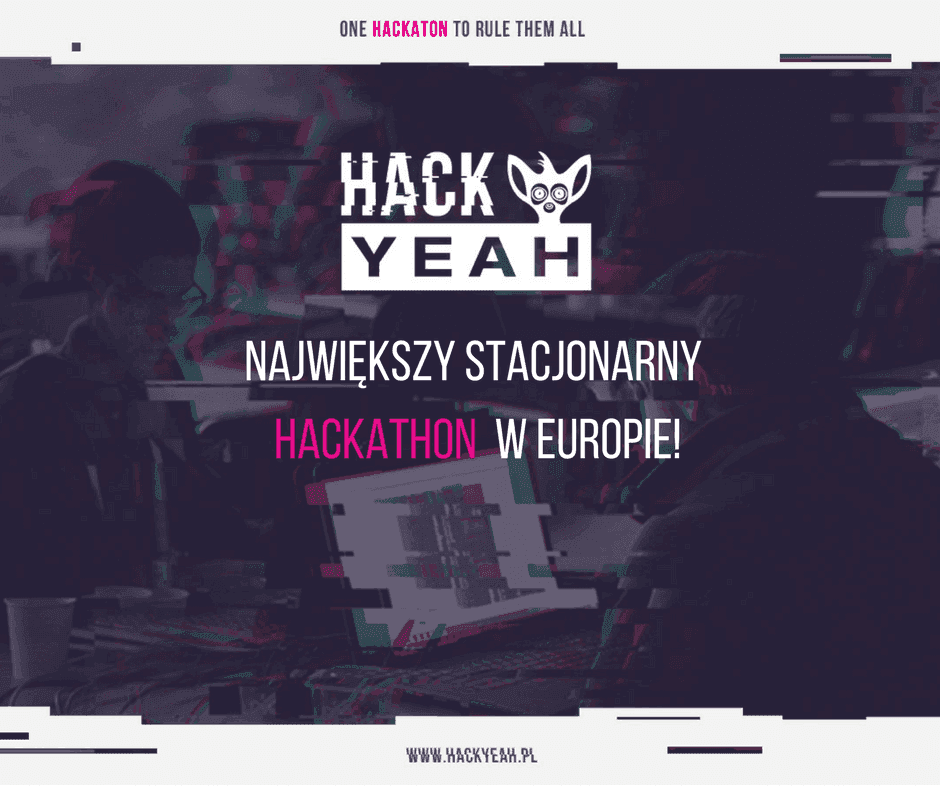 100 000 PLN, VIP tickets to Metallica concert in Krakow and more: HackYeah, Europe's largest fixed-line hackathon will be held in Krakow.
2000 participants. Free buses from all over Europe to Krakow. Several tasks to be solved, including dealing with the issue of Georevolution in Krakow, catching tax fraud, finding solutions for extreme athletes, social problems and natural disasters. Competition, 24 hours of hard work and valuable prizes with a total value of more than 100 000 PLN-this is a brief description of hackathon hackyeah, which will be held on October 28-29, 2017 in Tauron Arena in Krakow.
100 000 PLN, VIP tickets to Metallica concert in Krakow and more: HackYeah, Europe's largest fixed-line hackathon will be held in Krakow.
Hackyeah-what are we fighting for?
6 VIP tickets to the presidential box for the Metallica concert in Krakow – you can't buy these tickets!
Tickets and travel on WebSummit.
Cash prizes with a total value of PLN 100 000.
This is only part of the prizes that will be awarded at hackyeah hackathon in Krakow. The event is aimed at programmers of all specialties, from beginner to advanced level, as well as graphic designers, team leaders, people with an idea for solving one of several tasks described here: https://hackyeah.pl/task.html.
What tasks are waiting for the participants?
Participants hackyeah under the guidance of mentors will face several open-ended tasks. They are divided into three main categories:
X-SPORTS: we are looking for ways to better analyze training data, improve protection against injuries or monitor the effects of training. The event will be attended by amazing people who play extreme sports every day and inspire the participants with their ideas.
X-NATURE: nAtura often shows his beautiful and mesmerizing face, but sometimes leads to dangerous and devastating anomalies. Floods, fires or earthquakes-extreme natural disasters, as well as global warming and other anomalies require better ways to prevent, analyze, warn and respond-and these are what we will be looking for during hackyeah.
X-SOCIAL: poverty, homelessness, lack of access to drinking water, pollution, insecurity, social equality, social and technological exclusion-how can technological solutions help these issues? What solutions are missing? We'll see on hackyeah.
In addition to the three main categories, HackYeah participants will also be able to work on specific tasks provided by event partners. Participants will have the opportunity to fight m.in. z georevolution in Krakow is catching tax fraud.
HackYeah participants will also have attractions, a place to relax, thematic lectures, as well as the opportunity to meet representatives of the IT community from Poland and neighboring countries.

How to register?
You can register for the event using the form on this page. As an event partner we have a pool for you 30 free passes – when registering, enter the code: "team-bulldogjob' – under it there are 30 free entries:)". Use or register in the standard mode-the cost of the entrance ticket is symbolic, and the entire amount collected is donated to programming courses for children from Krakow children's homes, which are under the care of the school 3.0 foundation.
How do you get in? Free hack bus!
The organizer has provided free bus rides to Krakow and back from all over Europe and selected cities of Poland-details on the website!
For more information, please visit the event's Facebook page.
Partners of the event are City of Krakow, Google for Developers, Estimote and Ministry Of Finance.