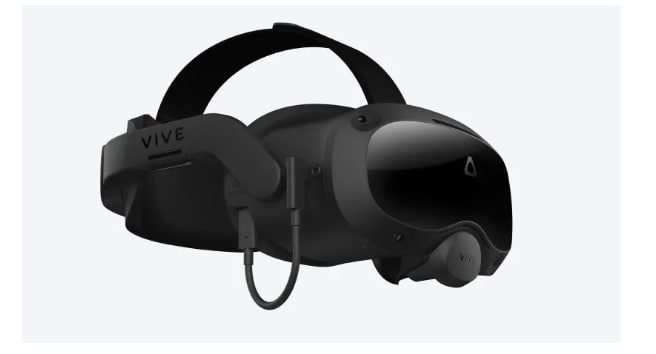 ​There is information about face and eye tracking HTC Vive Focus 3
There is information about face and eye tracking HTC Vive Focus 3
Vive Focus 3 Eye Tracker and Vive Focus 3 Facial Tracker are already available for purchase.
This week, HTC Vive introduced two new accessories for the Vive Focus 3, which provide support for face and eye tracking in an all-in-one virtual reality headset. The company believes that these devices will be useful in various cases, from education and recruitment to other various industries and professions.
As stated in the official release of HTC, the new face tracker Vive Focus will allow you to more vividly present the virtual interaction between people and will have a big impact on how VTubers will work in the future. VTubers' live performance capabilities will be expanded due to the simplicity and accuracy of the Vive Focus 3 Eye Tracker.
The Vive Focus 3 Facial Tracker has a monofocus camera that can track facial expressions across 8 lens hood shapes. The camera tracks cheeks, chin, jaw, lips, teeth and tongue, capturing detailed facial expressions in real time. The 60 Hz tracking frequency means there is almost no delay between the voice and the mouth movements of the game avatar.
No additional hardware or adapters are needed to configure Facial Tracker. You just need to connect the device to the USB Type-C port of the Vive Focus 3 headset, and you're done.
With the help of face tracking, skills in presentation coaching, customer service management, training and much more are improved. This opportunity will allow you to achieve better results in real life in many areas, from education and healthcare to personnel management and creative industries.
There is a Vive Focus 3 Eye Tracker, a dual camera complete with IR illuminators. With the help of this additional equipment, everything is tracked – from the direction of the gaze to the size of the pupil and the openness of the eyes, which results in a more realistic feeling in the headset.
Gaze-based interaction will allow you to interact with the virtual world by looking at people and objects. The load on the GPU is minimized using Foveated rendering. Conversations in virtual space become more exciting due to realistic eye movements and blinks. The lightweight device is easily attached to the Vive Focus 3 with magnets and does not interfere with adjusting the IPD of the headset.
With Vive Focus 3, Eye Tracker allows you to see what the user sees in order to understand his intentions and improve feedback. All this is perfect for training and training scenarios. Vive Focus 3 Eye Tracker helps to understand how users interact with the product, improve the experience by revealing information about the user's intentions.
You can now purchase the Vive Focus 3 Eye Tracker for £216, as well as the Vive Focus 3 Facial Tracker for £83.